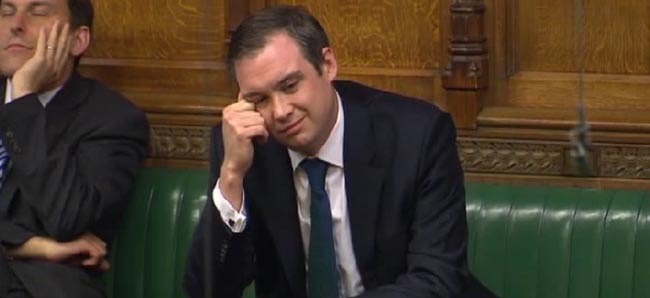 By Martin Walker
A sneaky Tory MP was today told off in the House of Commons after hijacking a Hitachi PR stunt in Newton Aycliffe.
The Labour MP for Sedgefield, Phil Wilson, clashed again on Tuesday with James Wharton, the Conservative MP for Stockton South, over a bitter turf war.
Mr Wharton (pictured above in the Commons) turned up with the Local Government Minister Brandon Lewis to the Hitach site on Aycliffe Business Park on Monday morning, to promote the Local Growth Fund grants being dished out in the area.
Mr Wilson accused his colleague and Mr Lewis of visiting his constituency without notifying him first.
On Monday evening, Mr Wharton was reminded in the Commons that, under parliamentary convention, MPs are expected to tell colleagues if they plan to go on an official visit to a constituency other than their own.
The Tory claimed he was simply Mr Lewis's chauffeur, dropping him off at the site before quickly leaving.
However, media images emerged on Tuesday morning clearly showing a grinning Mr Wharton accompanying Mr Lewis on Hitachi's viewing area during the media conference, while the Stockton MP also Tweeted a picture of himself at the site afterwards.
Deputy Speaker of the Commons, Dawn Primarolo, told Mr Wharton on Monday night: "I think we are all grown up to know what the conventions imply about visiting another Member's constituency."
But, angered by the images in Tuesday's media, Mr Wilson brought up a second point of order in the Commons this afternoon, referring to the pictures which showed his visit to Aycliffe.
Mr Wharton, shaking his head, said he stood by his claim that he was just dropping Mr Lewis off before sniping back at his Labour rival.
"I'd put on the record my honest and well-meant suggestion to Mr Wilson that rather than continually making points of order of this type, in this place, which of course he's entitled to do, he would perhaps be better served asking Hitachi why they had not invited him to attend," said Mr Wharton.
Refereeing the two MPs, the Speaker of the House of Commons John Bercow, a former Conservative MP, said: "If he (Mr Wharton) took part in the visit, I think he must know what the logic of that is.
"I would appeal to Members, particularly at this sensitive time in the run-up to a General Election, to observe the spirit of the convention about prior notification.
"Let's try to behave in a way that the public would think seemly."
The Intercity Express Programme was a Labour Government programme, and Hitachi Rail Europe decided to invest in Newton Aycliffe in 2009, prior to the Conservatives and Lib Dems going into Coalition power a year later.
The Coalition, in fact, threatened to scrap the IEP, but the Back On Track campaign – led by Mr Wilson which involved a petition taken to Downing Street – was successful and the under-pressure Government eventually rubber-stamped it.
Mr Wharton, whose Stockton South seat is marginal after winning 19,577 votes to Labour Dari Taylor's 19,245 votes in 2010, has since squeezed his way into several photo calls at Hitachi PR stunts in Aycliffe, which would suggest he's grasping for votes.
Hitachi Rail Europe has previously placed on record the role Mr Wilson played in helping to bring the IEP to fruition, despite being in opposition.
At the 30th anniversary party of the Sedgefield Constituency in November 2012, in the evening's official programme, Alistair Dormer, Hitachi's Chairman and CEO, wrote: "Even before our contract with the Department for Transport was signed, the tremendous support we received from so many organisations and individuals in the region convinced us that our decision was the right one.
"In particular, Phil Wilson led a campaign which transcended party political differences to ensure that the interests of his constituency were heard in Westminster."
Click to see Mr Wilson and Mr Wharton clashing in the Commons today.