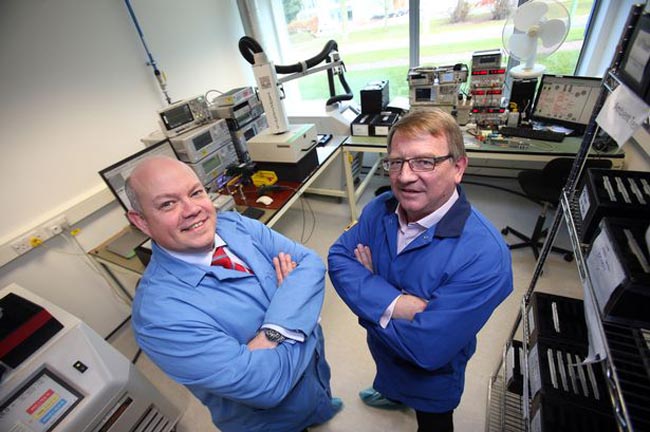 By Martin Walker
Firms on Aycliffe Business Park are being offered the chance to tap into a pool of skilled people after a former Aycliffe company announced redundancies.
Components firm Filtronic has announced it will make redundancies in the UK and overseas as part of cost-saving measures.
The manufacturer, which was previously based at the former RFMD plant in Aycliffe, employs 85 people at its broadband business base in NETPark, Sedgefield.
The firm, which designs and manufactures microwave electronics products for the wireless telecoms infrastructure market, said in a trading update that revenues from its wireless business will not "build up as quickly as expected".
As a result, the board now expects revenues for its wireless business to be around £10m for the year ending May 31, 2015.
Board changes have also been made and Rob Smith, chief financial officer, has replaced Alan Needle (pictured above with Business Durham managing director Simon Goon) as chief executive officer with immediate effect.
The firm says its NETPark base continues to trade in line with market expectations.
Business Durham is working closely with Filtronic to help find 16 employees new positions as soon as possible.
They include: Process Engineer, Engineering Team Leader, Hardware Technician, IT Support, Layout Engineer and Production Operatives.
If you think you have any vacancies that might suit these experienced employees, please contact Caroline Taukulis at Business Durham on 03000 265515 or email [email protected]