Cash from the sale of an old people's home in Newton Aycliffe has helped to fund a new Multi Use Games Area (MUGA) for local children.
The new £36,000 MUGA at Moore Lane, near Aycliffe Sports Club, was officially opened this week by Aycliffe Mayor Mary Dalton, her consort, councillor Michael Dalton, and one of Aycliffe's Durham County Councillors, Cllr Sarah Iveson.
Half of the cash for the MUGA was provided by Great Aycliffe Town Council, with the other half coming from Durham County Council funds from a previous 'Section 106 agreement', following the sale of Shafto House which was redeveloped for new homes.
Council leader Bob Fleming told Aycliffe Today: "Part of the funding has come from a Section 106 agreement – that's when they sold Shafto House for new homes – and the remainder we found from our budget.
"But we mustn't forget here is that this MUGA has to be maintained, insured and parts replaced over a certain number of years.
"So even if the County Council provided all of the funding, over its lifespan we'd put in 150%, so we can never forget we have the upkeep of these facilities to think of.
"There are nine parks in Newton Aycliffe and this is another long-term investment here which has provided a valuable facility for local children for many years to come."
Mayor Dalton added: "The match-funding is a great example of the town council working with the county council, and I think our county councillors are doing a good job.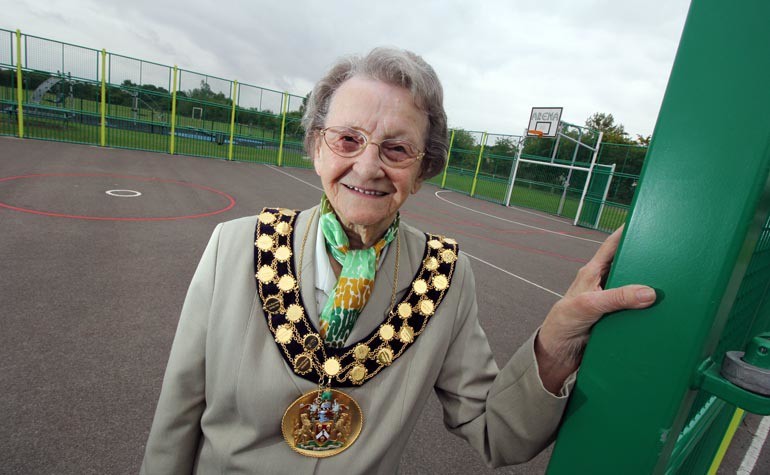 "We need new facilities like this for our young people. It's much better that they're here playing than roaming the streets."
The new MUGA is situated on half of the tarmac area at the Moore Lane playing area, which was previously used as tennis courts, and is now suitable for a wide range of activities including football and basketball.