Work by Durham County Council to pave the way for an expected 3,200 jobs and an economic boost of nearly half a billion pounds is now underway.
With £13m funding from the Local Enterprise Partnership, Durham County Council is carrying out work to prepare the 52 hectare Forrest Park site in Newton Aycliffe.
This additional site will expand and even further develop Aycliffe Business Park – which lies adjacent to the Hitachi Rail site – already the largest business park in the region.
The enabling works, due to be completed by the end of autumn 2017, will see construction of a new, signalised junction on the A167 – for better access to both the new site and Aycliffe Business Park – and an internal link road and a power substation.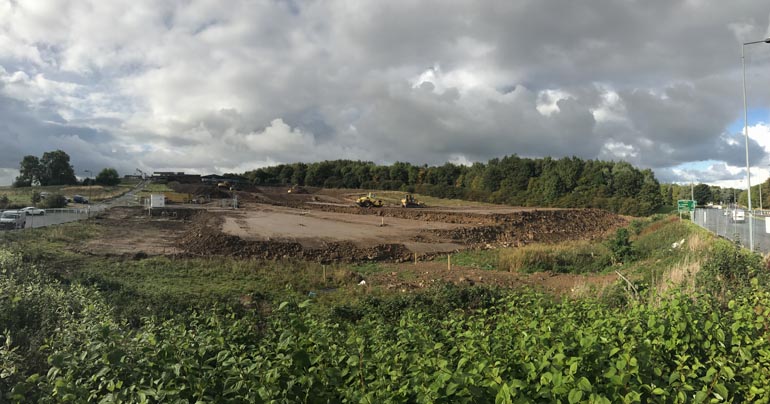 The improvements are designed to remove existing barriers to the continued success and further expansion of Aycliffe Business Park.
By doing so it is hoped that it will unlock a potential investment of nearly £140m from the private sector to develop the site including, due to its location, a possible rail freight interchange. It's estimated the site could see the creation of 3,200 jobs and deliver a Gross Value Added (GVA) of £495m over the next 20 years.
Cllr Simon Henig, Leader of Durham County Council, said: "The decision by Hitachi to bring rail manufacturing back to its spiritual home in County Durham provided us with the opportunity of a lifetime. The significant role the Council played in that decision, along with our partners, remains one of my proudest moments with the authority.
"To add to the success of what is already the largest business park in the region, by unlocking the new development on Forrest Park we hope to bring forward over 3,000 jobs and add almost half a billion pounds to the economy over the next twenty years. This investment will firmly shine a light on Durham, demonstrating what a great place the County is for business."
Cllr Neil Foster, Cabinet member for economic regeneration, said: "Aycliffe Business Park has been phenomenally successful, creating thousands of local jobs. By removing the barriers to its expansion we will create the perfect environment for the private sector to step forward and make the most of the opportunities provided by Hitachi Rail, its wider supply chain and the cluster of manufacturing industries in the area.
"As a result we hope that Forrest Park becomes the next great success story for County Durham, bringing thousands of new jobs to the area and putting millions of pounds into our economy."
Darren Cumner, Manufacturing Plant Manager at Hitachi Rail said: "This expansion is excellent news for the area and the wider economy.
"It will firmly put County Durham on the map as a County which stimulates investment and regeneration, and we are delighted to be part of it."
The preparatory groundworks are due to be completed by the end of the year with the substation, link road and junction completed by autumn 2017.