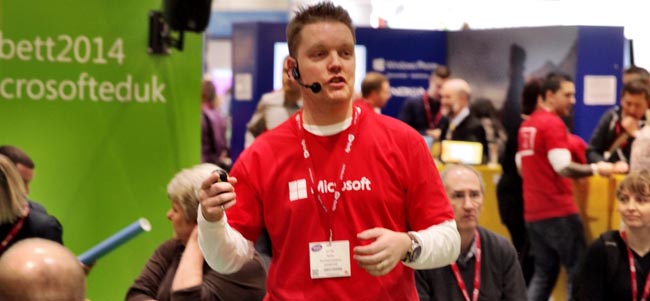 A Newton Aycliffe school has has developed an innovative 'Global Classrooms' project using Skype to connect with classrooms and guest speakers from across the globe.
Exciting lessons involving 'Skype in the classroom' – a global community and website for teachers who want to use Skype to bring the world to their students – at Woodham Academy have included live fitness and dance lessons with a school in America, careers lessons with human resources executives from Skype's London office, modern foreign language speaking lessons with schools in France, question and answer sessions with ex-students working for top companies around the world and even talks from high profile sporting stars.
Due to this highly imaginative and creative way to deploy technology in the classroom, Microsoft UK Education invited, assistant head teacher and leader of teaching and learning, Jon Tait to speak about the school's work with Skype in the classroom at the BETT Show in London last week – the largest education technology show in the world.
Jon delivered presentations every day on behalf of Microsoft and Skype to hundreds of teachers from all over the world about the benefits of using Skype in the classroom and how this has helped raise achievement at Woodham Academy.
Jon said: "In today's digital world we all have a duty to develop our students into global citizens that can communicate effectively with people from across the globe.
"By using Skype in the classroom we have provided amazing learning experiences and opportunities for students to communicate and collaborate on a global scale.
"By connecting with guest speakers, international experts and education partners here at Woodham, we really can create world class education opportunities for our students without having to leave the classroom."