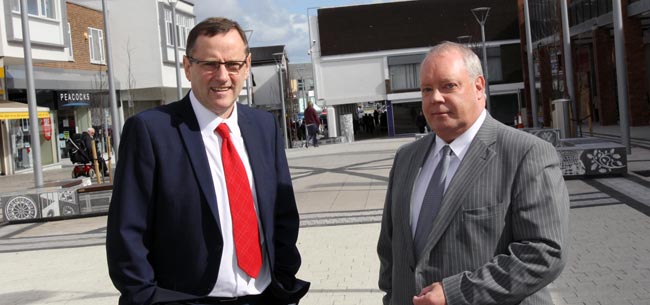 By Martin Walker
Newton Aycliffe's MP Phil Wilson has joined forces with the town centre manager to launch a scheme based on a pilot idea which has already proved successful on Teesside which could see a host of new start-up retailers in our shopping centre.
A Stockton-based social enterprise has already delivered the scheme on behalf of Stockton Borough Council, which saw 54 new retail businesses started within a year in the borough.
Now Mr Wilson, the Labour MP for Sedgefield whose constituency office is based in Aycliffe town centre, has invited the enterprise to try the idea out here.
The proposal being developed will support first-time retailers to try out a new business idea, by giving them support, mentoring, training and easy access retail space in Aycliffe town centre.
It means Aycliffe town centre could soon be home to a whole host of new start-up retailers selling anything from children's ware, handmade beauty products, to pet accessories and men's clothing.
Mr Wilson, pictured above with town centre manager Bryan Haldane, said: "I was particularly impressed when I heard about the scheme in Stockton and how it helped retail development in the area.
"Business and enterprise is important to me, as is having a diverse and vibrant town centre.
"The town centre management has been working very hard to bring in new business and the improvements in recent years have been tremendous.
"Now residents want more shops and I believe this scheme will complement the town centre's growing offering.
"It will also give local people the chance to try out a new retail idea which could eventually become a livelihood for them."
Aycliffe town centre underwent a £3m makeover in 2013 which gained national acclaim when it won a gold award at the British Council of Shopping Centres annual awards dinner in London.
Many of the empty buildings are now under offer, while redevelopment work continues, and the idea of bringing a number of new start-up shops to the town is sure to prove popular with residents.
Centre boss Mr Haldane said: "The owners of Aycliffe Shopping Centre fully support this initiative and I will work closely with Phil Wilson and his team to promote this effort to bring new business offers into the town centre."
Aycliffe town centre is up for another award, as work on the third phase of the redevelopment continues following the recent utility disconnections.
The Royal Institution of Chartered Surveyors (RICS) has nominated the town for the renaissance award in the North East.
The refurbishment of the former HSBC building on Dalton Way is nearly completed, with the flats on the first floor being fully refurbished and available for let to local residents soon and strong interest from retailers in the redeveloped former bank.
Work on the other end of the centre has started with Churchill House and adjoining shops due to be demolished and the Town Clock being retained with new external cladding and signage to improve its appearance after all these years.