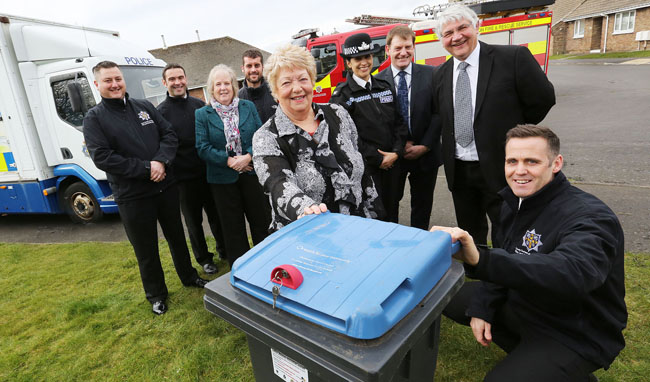 A week of action to help people feel safer in their homes started this week.
The Safer Homes week, led by County Durham and Darlington Fire and Rescue Service, is linked to the project bearing the same name.
Each day of the week the focus will fall on a different element of the project as follows:
Monday – fire and crime safety advice, practical help and fitting wheelie bin locks
Tuesday – hoarders and the dangers that they create in their homes
Wednesday – older people and the help that can be given to those who are vulnerable
Thursday – domestic sprinkler systems and the joint initiative with housing providers
Friday – Neighbourhood Watch and the work being done with volunteers
Officers from the fire service, the police and county council were joined by pupils from Durham New College who handed out cakes to residents in Joicey Gardens, Stanley, as home assessments and surveys regarding fitting wheelie bin locks as part of a pilot scheme were carried out in the area.
Rob Cherrie, project manager for Safer Homes, said: "This element of the Safer Homes project is very satisfying for all of us involved as the work that we do has an immediate effect in helping people feel more secure.
"We will be out fitting approved fire and crime safety devices such as smoke detectors and personal safety alarms and where appropriate fire retardant blankets and bedding may be distributed.
"Often people don't recognise their own vulnerability; they may live alone, perhaps they are less mobile than they were or suffering from a health problem.
"All of these things can mean that people become unable to check power supplies, smoke alarms, burglar alarms, move rubbish, repair garden fences or locks on their home and that is where all three services working together can help.
"We will also be fitting locks to wheelie bins, as part of a pilot scheme in East Stanley, to prevent deliberate fires."
Stanley was chosen as the launch pad for the action week and the wheelie bin lock pilot as the town has been the subject of a spate of deliberate and unexplained fires.
During the past year, in Stanley and the Annfield Plain area, there have been 152 secondary fires (classified as small fires); of these 72 have been rubbish fires, including 12 wheelie bins.
There have also been 26 primary fires (larger fires such as in homes and cars) and 11 of these were car fires.
Councillor Michele Hodgson, Chair of County Durham and Darlington Fire Authority, said: "The Safer Homes project has already helped more than 400 people across County Durham in just over six months.
"We hope to reach more of these people at risk by speaking to them, their neighbours, relatives, friends and carers about the free advice and fittings on offer."
For more information about the Safer Homes project or to request a fire/crime safety assessment, please contact County Durham and Darlington Fire and Rescue Service:
Phone – 0191 375 5561 or 0845 223 4221 (calls charged at local rate)
Email – [email protected]
Information is also available via the website www.ddfire.gov.uk
Pictured (above) is: (From left) Keith Wanley, area manager County Durham and Darlington Fire and Rescue Service (CDDFRS), Lee Brown, assistant district manager CDDFRS, Michele Hodgson, chair of County Durham and Darlington Fire Authority, Daniel O'Brien, Area Action Partnership coordinator, Christine Blackburn, resident Joicey Gardens, Superintendent Kerrin Smith Durham Constabulary, Neil Fawcett, crime prevention officer, Ron Hogg, Police and Crime Commission for Durham Constabulary, Rob Cherrie, Safer Homes project manager.