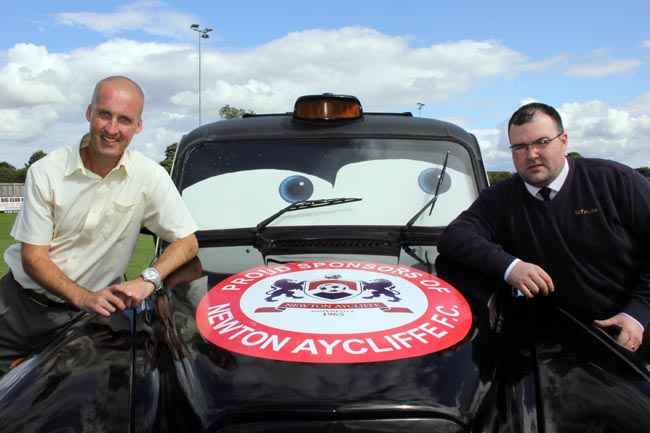 By Zoe Skerrett
Newton Aycliffe FC are in safe hands thanks to a new shirt sponsorship deal with a taxi firm.
SafeLine Taxis have been revealed as the new sponsors of the Northern League club's blue home strips for the 2014-15 season.
Tony Bennett, SafeLine senior partner, said: "We are absolutely delighted, I'm a big admirer of what Allan Oliver and Gary Farley have achieved with the team over the last few years, so when the opportunity came we were just delighted to get involved.
"I think it will be good for SafeLine and hopefully it will be good for the club.
"I think it's great that we have a football team on the town, and we feel it's important for local businesses to support the town's sporting clubs.
"It's also important that the youngsters get involved, and it's good for everybody so if we can get the message out there then it's all the better."
Clarence the Cab is an iconic mascot for SafeLine that many Aycliffe residents will recognise, and the firm plans on taking him along to support Aycliffe during their matches.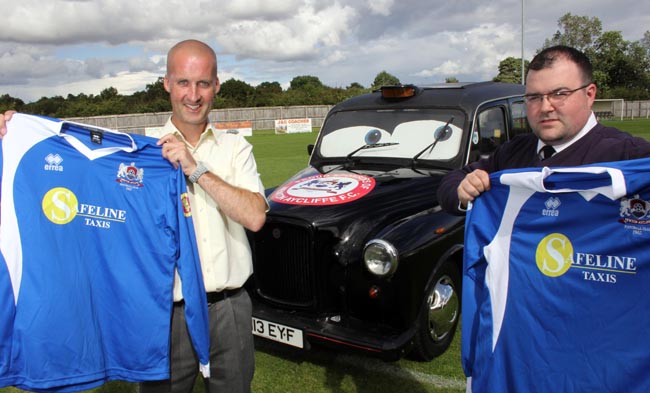 Safeline Taxis partner Chris Bennett (right) with Newton Aycliffe FC general manager Dan Lewis and 'Clarence the Cab', Safeline's famous London black cab.

The expression 'parking the bus' is used when all the players play defensively during a close match, and the club's general manager Dan Lewis is hoping that 'parking the cab' will give a hand when it comes to improving defensive records.
He said: "This is a really exciting deal for us and we're really delighted to have such a high-profile company on board.
"They're a great local company and do an awful lot of work in the community and around the town with businesses and around town, so to link up with them makes perfect sense to us and it's going to be a really beneficial partnership for us both.
"We are trying to work as closely as we can with local businesses, obviously the home shirt is one of our key sponsorship opportunities and it gives a great deal of profile.
"But we're also looking for a sponsor for our away strips as well as match sponsors and pitchside perimeter boards, so there are lots of affordable ways for businesses to get involved."
SafeLine was started by Tony and his son, Chris, eight years ago with two cars and the primary aim of developing a corporate images with clean, matching cabs and smart drivers who wore a collar and tie.
The clean-cut image proved successful, as SafeLine now operates with 12 cars and 15 members of staff from their base on Aycliffe Business Park.
SafeLine launched their executive car service two years ago after spotting a gap in the market and a need for smart, corporate vehicles for business users as well as weddings and special occasions.
With two matching executive cars and chauffeur-uniformed drivers, the exec range provides Aycliffe with something it needed.
• To book a taxi in Aycliffe, call SafeLine on 01325 312512.
• Aycliffe still seek a sponsor for their away strips – those interested can contact Dan Lewis on 07581 784726 or email [email protected]