ROF 59 have teamed up with the Pioneering Care Partnership (PCP) to raise much-needed funding to support the Hydrotherapy Pool replacement campaign.
From Friday May 3 until Saturday May 11, ROF 59 have kindly agreed to donate 50% of all takings from up to 1,700 zip wires (which could amount to £4,250 in total).
ROF 59 founder John Finley (pictured above) said: "We are aiming to see 1,700 people in a short space of time and the number is significant, it represents one zip for every 10 heroic 'Aycliffe Angel'.
"We're also aiming to achieve this before the deadline of May 11, to coincide with the day the blitz ended 78 years ago.
"PCP's hydrotherapy pool is particularly well-used by older people, those with physical disabilities, children and young people and adults with learning disabilities and here at ROF 59 we felt it was a great cause to support."
PCP chief executive Carol Gaskarth added: "Our pool provides over 20,000 appointments each year for people who benefit immensely from Hydrotherapy.
"PCP is thrilled that ROF 59 would like to help with the fundraising for a new Hydrotherapy pool and this is a fabulous way for local people to get involved.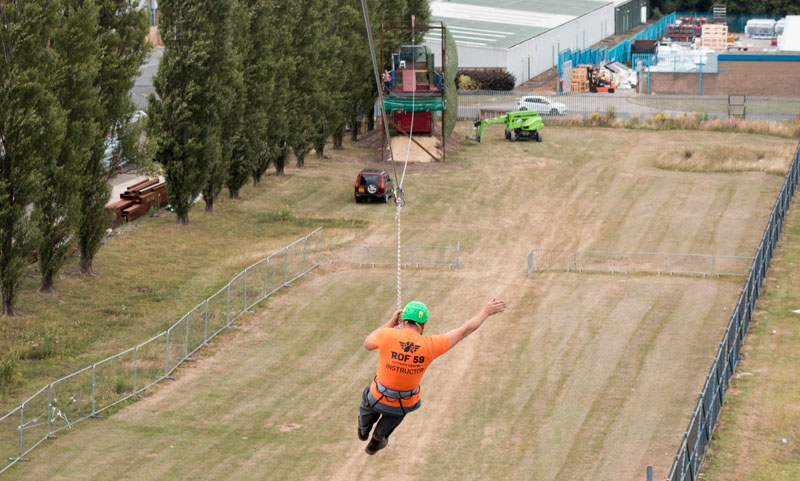 "I'm not so thrilled at the prospect of going down the zip wire myself but I've been told I've got to do it, so I'd better rise to the challenge!"
You can try ROF 59's Zip Line for only £5, with 50% going direct to PCP, by calling 01325 321234 to book a place.
PCP is a registered charity, established in 1998, and its mission is health, wellbeing and learning for all.