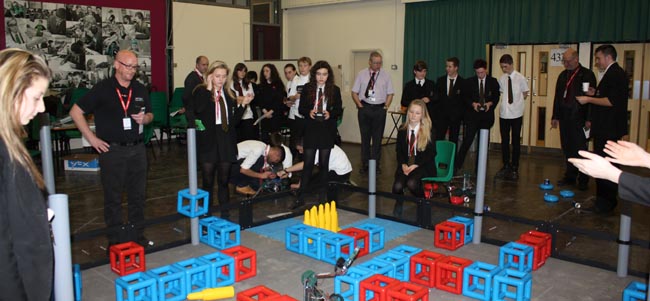 Eight teams from across County Durham competed for the second Royal Academy of Engineering Durham VEX Robotics Challenge at Woodham Academy.
The schools taking part were Greenfield, St Leonards, Tanfield School, Park View, The Hermitage Academy, Staindrop, Ferryhill Business College and Woodham Academy. Each school presented a team of 6 Year 9 students, three boys and three girls.
The event was supported by the Royal Academy of Engineering Connecting STEM Teacher programme.
The Connecting STEM Teachers project, which was founded by BG Group and has subsequently been additionally supported by Petrofac, aims to provide local support for the teachers of STEM subject so they can develop the knowledge and confidence to:
• illustrate the role of engineering in society to young people
• explain how engineers shape the world and improve our lives
• highlight how STEM learning at school is applied in the real world
• enrich the STEM curriculum
• engage a greater number and wider spectrum of students in STEM.
Central to this project is a national network of Teacher Coordinators, employed as consultants by the Royal Academy of Engineering, who provide STEM teachers in their local schools with free training, ideas and resources to help them enhance STEM learning.
Michael Nelson, Head of Engineering and Design and Technology at Woodham Academy is one of two regional teacher coordinators for this project in the North East.
He said "It is remarkable to see so many students from different schools, fully engaged within this challenge. It clearly shows that with a bit of creativity and with some external funding, what can be achieved. These students had a positive experience of STEM and will seriously consider following a STEM pathway within their future career."
The event was kindly supported by members of local industry and The Regional Technology Centre. There were representatives from Hitachi, 3M, Gestamp Tallent as judges and they enjoyed the event and were excited with the prospect of some of these students being future engineers.
Michael Burnham, Manufacturing Engineer Hitachi Rail Europe, said: "I'm really impressed with the students that competed on the VEX Robot challenge at Woodham Academy. It was fantastic and reassuring to see their commitment and enthusiasm for this engineering based activity."
The eight teams competed through various different activities, from remote operated ROV through a TV screen, to rescuing a Barbie doll from a maze. It was extremely interesting. The overall winner was Ferryhill, for the second time.
On Friday 13th February the eight Durham schools and other schools from the North East will be competing at Nissan UK representing the North East Region in the UK VEX Highrise championship, at the Big Bang Event at the NEC Birmingham in March. The winners from this event will represent the UK at the World Finals in America in April.