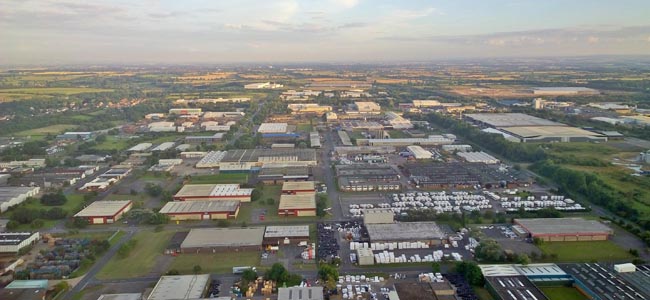 Retail provision is the talk of Aycliffe Business Park. Is it needed? Tim Francis delivers his verdict…
From coffee shops to fancy bistros… clothing retailers to DIY stores… or even just somewhere to grab a sandwich… retail provision on Aycliffe Business Park is decidedly lacking.
There's said to be 9,000 people working here, and if Merchant Place Developments can realise their ambitious plans, there'll be a total of 14,000 employees on the park by 2020.
Make no mistake, Aycliffe Business Park will become the biggest industrial estate in the North-East – and one of the biggest in the country – by the time the Merchant developments are completed.
It isn't just PR bluster when Geoff Hunton made the bold statement about creating 4,500 extra jobs here within the next five years – on top of the 750 or so who'll be working at Hitachi Rail Europe this time next year.
As Geoff put it, the "Hitachi effect" is already in full swing. He promised to deliver Hitachi to Aycliffe, and didn't disappoint.
But let's not forget the existing businesses here on the park who plan to create new employment.
Ebac hopes to double its workforce to 400 over the next few years and has already added 40 staff to its ranks in recent months as the production of chest freezers cranks up and the manufacturing pioneers prepare to bring washing machine production back to the UK.
Then there's Gestamp Tallent – arguably Aycliffe's flagship company – which already employs 1,200 people at its colossal site and aims to add 150 more over the next four years.
There are others who've brought new employment to the area in the last year, and more who want to create more.
So the argument for a retail park, of some sort, couldn't be any stronger than it is now.
To weigh the argument up, there is the real threat of what kind of an impact retail on the park would have on Aycliffe town centre.

Durham County Council planners will have one eye firmly on the Tindale Crescent development on the outskirts of Bishop Auckland, and what kind of an affect that has had on Bishop town centre.
However, the beef with residents in Aycliffe is that the kind of retailers they want to see on the town – M&S, Next, B&Q etc – don't currently reside in the town centre, and probably never will.
So, therefore, the town centre has nothing to lose.
Aycliffe Shopping Centre Manager Bryan Haldane even told Aycliffe Today that he thought a retail park on the business park could work, "if planned properly" he said. I guess he means ensuring the type of retailers being wooed to the business park aren't those that are currently in the town centre.
Great Aycliffe Town Council is currently carrying out its own Neighbourhood Plan survey, canvassing the thoughts of Newtonians and what they want to see happen in the town, and the overriding message from them, at present, is there are two key issues – the environment and retail.
Residents want the town to retain its green and open spaces, but they also want to see better retail provision. So the people are already having their say, and the dissemination will be loud and clear.
On top of that, there is Aycliffe's prime location. A good retail park would attract visitors from all over County Durham, but a quality retail park – akin to McArthurGlen's York Designer Outlet, for example – would draw shoppers from across the North-East, with the A1 being the gateway.
If our County planners shared the same vision and ambition for Aycliffe as Geoff Hunton, perhaps we wouldn't be having this debate.
Although there are, in fairness, hints from the County that retail could be part of future developments on the park. The County Durham Plan – Durham County Council's blueprint for the county's future revealed earlier this year – has earmarked 123 hectares of potential employment land in Newton Aycliffe that could be developed for "industrial and retail space", it said.
But when Neil Foster, the county's cabinet member for economic regeneration, was asked by Aycliffe Today about retail provision here recently, the Spennymoor Councillor wasn't convinced, although he did seem to suggest there could be something "in between" – cafes and sandwich shops to service the business park.
There's still plenty to be debated over the coming months and years. The County Plan is yet to be rubber-stamped by the Government – although my guess is it's unlikely it will fail – and Aycliffe's Neighbourhood Plan, if approved by the County, could also help to shape the future of Newton Aycliffe.
One thing that is concrete right now is that there's never been a better time to live or work in Aycliffe.
In terms of manufacturing and engineering at least, Aycliffe Business Park – already a beacon for County Durham – could become the capital of the North-East, and the spin-offs for the town will be felt for generations.
In my opinion, a retail development will more than likely arrive in time. It might start with a handful of sandwich and coffee shops to begin with, but will almost certainly be followed by the kind of retail there seems to be great demand for.