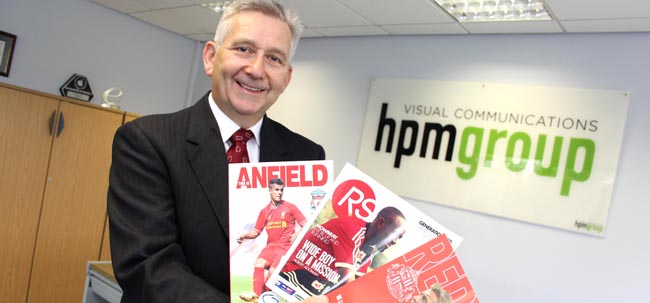 By Martin Walker
Mystery surrounds a Newton Aycliffe printing company as 11 members of staff were suddenly laid off on Friday.
Workers at HPM and Addo – the new company which formed earlier this year following a merger between 125-year-old printers HPM Group and Darlington-based Addo Printing – have been told that as from Monday (3rd November) the company will cease trading as HPM and Addo, and start as Addo Printing.
HPM, which last year employed 45 people, was famous for printing football programmes and in 2013 celebrated a new contract with Premier League giants Liverpool.
But they lost a contract to print North-East Premier League club Sunderland's matchday programme half-way through the 2013-14 season.
And they also lost their arrangement with Middlesbrough this summer after a 30-year relationship with the Teesside club.
HPM Group merged with Addo Printing, which employed 10 people, in the summer with managing director Richard Mortimer (pictured above) becoming chairman of the new company.
Combined the new group employed 50 people.
Around the same time, when asked where he saw himself in five years in our business magazine, Aycliffe Today Business, Mr Mortimer replied "Working on a vineyard in Tuscany".
Mr Mortimer retired on 30th September, and HPM and Addo's new managing director, Keiran Bayley, told Aycliffe Today earlier this week that Mr Mortimer had "retired".
A number of key personnel have also left in recent weeks, with Mr Bayley confirming the company had made two redundancies involving middle managers, whose roles had "become redundant due to restructuring of management".
But on Friday, 11 more staff were told they were jobless, reducing the workforce to around 35.
Both Mr Bayley and Mr Mortimer declined to comment.
The firm's website, www.hpmandaddo.co.uk, currently makes no reference to Addo Printing.