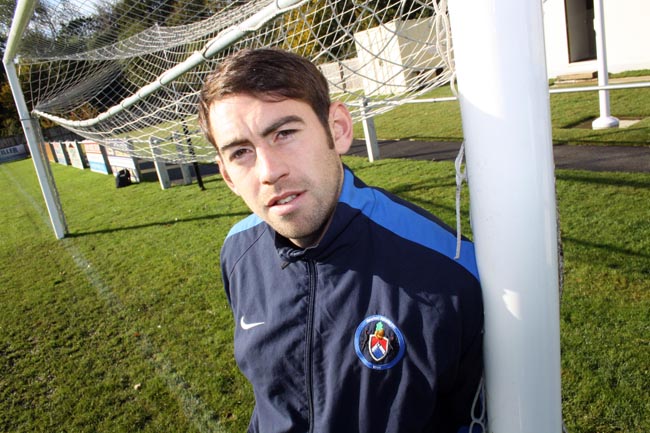 By Paul McGeary
Newton Aycliffe FC drew their third consecutive game 3-3 as they failed once more to hold on to a winning position, extending their winless run to four games.
Midfielder Stuart Owen – known affectionately as 'Rat Boy' to his team-mates – stroked home a late penalty to seal a point for Allan Oliver's men against local rivals Crook Town.
Much like in the reverse fixture just three weeks ago, the Newtonians raced into a 2-0 lead against Crook Town, only to be pegged back and almost suffer defeat, but for a contentious injury-time penalty decision.
Oliver returned to the Millfield, protecting an unbeaten record against his former club, while Owen, Dan Mellanby and Mark Wood all lined up against the Ambers which they once wore.
All three would score on an afternoon which saw the game tilt both ways, marred with refereeing controversy in front of a healthy crowd on a blustery day along the A68.
Aycliffe took the lead when Mellanby, 35, stole an inch from his marker before firing low past lifelong friend, and fellow Newtonian Barry Poskett in the hosts net.
Unplayable for the whole of the opening period, Mellanby turned provider shortly after as he scooped a through-ball to the overlapping Wood to register his first goal since returning for his third spell with the Moore Lane club.
Battling against the wind, Aycliffe looked to see out the first half with their two goal advantage, but couldn't quite manage as former target Adam Nichols tore past Dan Mitton and John Close, before rounding 'keeper Andrew Spence and squaring for the onrushing Alex Marshall.
Conditions died down in the second half and Crook took full advantage, laying siege to the Aycliffe goal, with Spence called upon several times. The same combination of Nichols and Marshall however breached the defence before the hour to restore parity.
Aycliffe couldn't get going but defended resolutely until the 88th minute when Craig Price was dispossessed by Spence near the byline, only for the referee to point to the spot, much to the disbelief of even the most ardent home supporter.
Former Nottingham Forest and Darlington winger Richie Hodgson remained unperturbed, and fired low past Spence to seemingly hand his side the points.
The referee had other ideas and as Aycliffe went forward in one last attack, he pointed to the spot as Tom Atkinson looked to fall under his own challenge inside Poskett's area.
Up stepped Owen to confidently fire home his second penalty of the week and bring the game to a close, a draw probably being the fairest outcome, though 2-2 would definitely have sufficed.
Spence; Wood, Clough (Raitt), Close, Mitton; Owen, M.Gibson (Butterworth), Green (Hedley), M.Young; Mellanby, Atkinson.
Unused: Farley, S.Gibson.