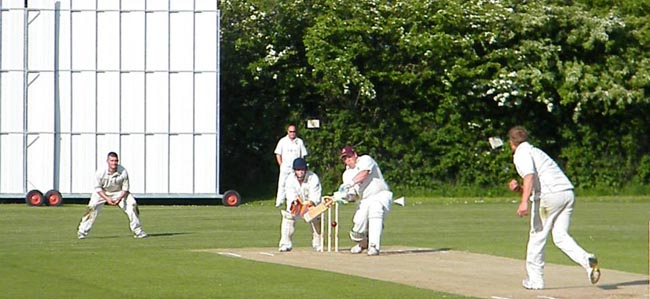 By Martin Walker
Newton Aycliffe's cricket team suffered a rare defeat at the weekend.
After a good run of form which puts them in a comfortable top-half position in the NYSD second division, Aycliffe's first team were brought down to earth with a six-wicket defeat at home to Yarm's first team.
In warm and sunny conditions, Aycliffe won the toss and elected to bat first, but managed just 109 all out, with skipper Chris Palmer (pictured) getting the man-of-the-match award with an excellent innings of 36, including eight boundaries.
But it took the visitors 38.4 overs to surpass Aycliffe's score with 110 for four. Dan Craggs took two wickets for 29, while Michael Howe took one for 11 and Matty Atkinson one for 12.
Aycliffe's second team were also beaten on Saturday as they fielded a young side against an experienced Seaton Carew second team.
Aycliffe were 70 all out from 34 overs, with Tony Travis top scoring with a knock of 16. James Skerrett scored 11 and Patrick Howe was 11 not out.
Seaton Carew's opening batsmen scored 94 with no loss after 18.3 overs.
One bright spot was the debut of 14-year-old Daniel Bowmer, who was nominated as man-of-the-match for his dogged innings which held up the home attack.
Aycliffe's first team go to Marske on Saturday (1pm), while our second team are at home to Preston's first team (also 1pm) at Aycliffe Sports Club.
There are also Bank Holiday Monday fixtures (26th May), with the first team at home to Darlington's second XI, and our second team travelling to Bishop Auckland to take on their second team.