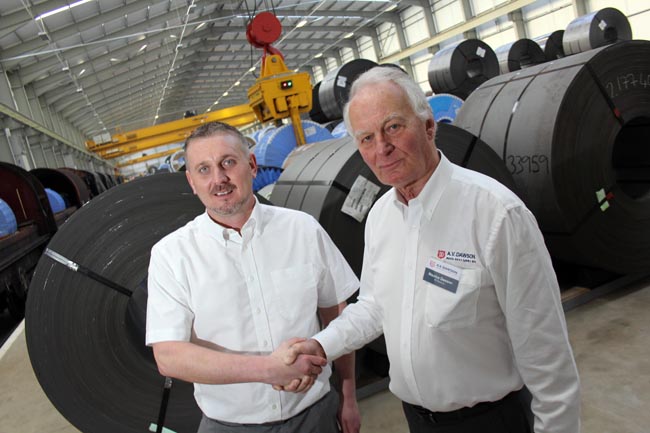 By Martin Walker
A Newton Aycliffe steel firm has completed a steelwork and cladding project for a distribution company to transform an industrial part of Teesside with a £6.5m super-green factory.
Raisco, based on Aycliffe Business Park, completed a five-week project to fabricate and erect 800 tonnes of steel, from receipt of order to completion, for AV Dawson's state-of-the-art storage facility at Riverside Park in Middlesbrough.
The 100,000 sq ft unit will handle steel coil from Tata Steel's South Wales base before feeding it into Sunderland-based Nissan's car-making factory on a just-in-time basis.
AV's new facility is powered by 1,000 solar panels on its roof, while 70 150-metre deep bore holes have helped to create ground source heating, reducing its overall carbon footprint by more than 450 tonnes of CO² a year.
Raisco Managing Director Gary Raistrick (pictured above with AV Dawson Chairman Maurice Dawson) said: "This is a state-of-the-art facility for the future and we were delighted to play our part.
"The timescales have been tight but this shows what Raisco are about as a company and are renowned for short lead in and speed on site as well as maintaining high levels of quality, which is testament to our management team and structure.
"From the first meeting with AV chairman Maurice Dawson, I knew this would be challenging but I never doubted our ability to deliver to his requirements.
"It's crucial in our industry these days to be flexible and open to new ideas, and I'd like to think AV Dawson recognised our approach and enjoyed working with us."
After installing the steel, Raisco used 18,500 square metres of cladding to complete their part in the project before 11,000 cubic metres of concrete was used to complete the internal flooring.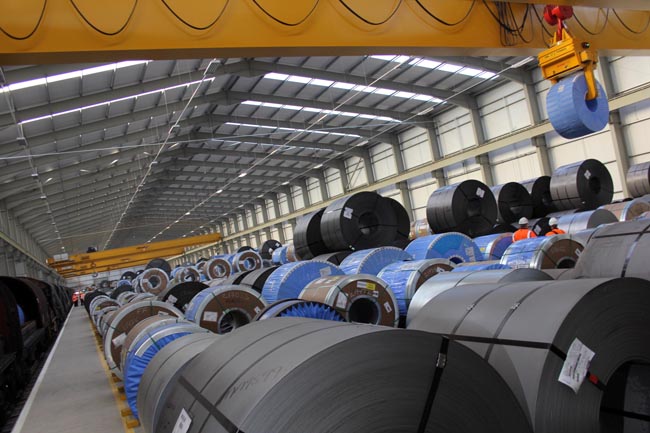 The facility, which is 264 metres long, now includes four 30-tonne capacity coil handling cranes and has the capacity to accommodate 58,000 tonnes of steel.
The £6.5m factory was part of an overall £12.5m investment by AV Dawson, funded by a £1.2m grant from the Regional Growth Fund.
The firm's Chairman Maurice Dawson said: "More than 800 tonnes of steel beams were hauled by our own transport from the steel mill at Lackenby to Raisco, and from Raisco they were transported, fabricated and painted before being finally transported to site for erection, all in direct liaison between our own transport company and Raisco management staff.
"The building went up in record time with no problems and this proved, by working together and engaging our joint management teams, that savings were made.
"Raisco proved to be flexible, professional and open to suggestions. Together we have built a building which is now recognised and held up as a model for all such automotive steel storage units both home and abroad."
AV's Managing Director Gary Dawson added: "The shed is working, it's full and the customer is delighted. The customer's customers are over the moon.
"We've taken a piece of brownfield site that was doing nothing for 50 years, and perhaps was going to do nothing for the next 50 years, and made it into a real showcase for the entrance into this area.
"Middlesbrough Council and local dignitaries are really delighted that we've pulled this together and transformed this area of Riverside Park."