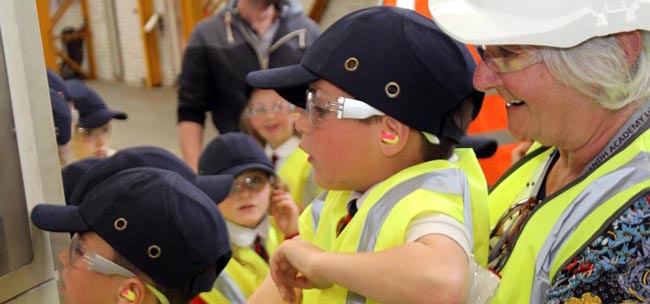 By Martin Walker
Inquisitive primary school children were given a tour of the factory which is fabricating steel for Hitachi Rail Europe's train-building facility in Newton Aycliffe as part of a special project.
Thirty year 2 pupils from Heighington Primary, the nearest school to Hitachi's £82m site on Aycliffe Business Park, have been learning about the history of trains and visited the Railway Museum in Shildon before studying modern day industry.
They were then given a tour around Newton Aycliffe firm Finley Structures, which is currently busy erecting 2,000 tonnes of steel for main contractor Shepherd Construction on behalf of Hitachi, and were told about the various jobs and roles that exist within a major construction company.
They rounded the trip off with a visit to the Hitachi site, where the youngsters could see real-life construction in action as steel and cladding was being erected.
See our picture gallery below
Heighington Primary School teacher Carly Spence says the youngsters will now use the experience to work on a design project back in the classroom.
"The children have been working on their local area and history that's pertinent to us, and of course railways is huge in this area," she said.
"They've been finding out about George Stephenson and the Rocket, how trains were made and what kind of jobs there were back then, and how difficult conditions people were working in.
"We started to look at how rail production is returning to the area and they'll have taken a huge amount out of this visit.
"They've been able to link it back to history and see how things have changed. They've also been able to look at other things like estimation and product design that they've never looked at before.
"It's also really exciting for them to come to a building site and to see what's going on.
"They'll write a report on their visit, linking it to the work they've done on the history of the railway, and they'll also look at the jobs that people do in the modern day and see how they can apply that in their next design project."
One of the youngsters visiting was eight-year-old Grace – daughter of Finley Structures managing director Julie Finley – who later revealed she'd prefer to work for Hitachi than her Mum's company.
"I enjoyed going to Hitachi and seeing all the cranes!" she said. "It was really interesting. We found out that the factory my Mam is building weighs 2,000 tonnes."
Another pupil, Alex, said he enjoyed visiting the Finley site, adding: "I quite enjoyed looking on the computers at how they keep the metal together so it doesn't fall down.
"I liked seeing the big machines as well, they picked up all the steel because it was too heavy for the men to lift."
Eight-year-old Maddie added: "I enjoyed it at Finley Structures and seeing all the stuff inside. One of the jobs I think I'd like to do here is to build it."
Staff at Finley Structures regularly welcome school children and college students to their premises as part of a commitment to increasing the awareness of the construction industry in the classroom.
Julie said: "We think it's important to bring young people in like this for all sorts of reasons.
"We see a skills gap, and it's very hard to find trained and qualified people these days and we'll soon be losing experienced, time-served people.
"It will take a while for our younger staff, and Apprentices, to reach that level of ability and expertise, so we feel it's important to let young people see the world of construction at first hand and what types of jobs that are available.
"One girl showed an interest in working on the shop floor. But my daughter, Grace, says she wants to work for Hitachi!"