PWS boss John Lennon has laid down the gauntlet to Aycliffe businesses and is urging them to enter this year's Make Your Mark awards competition. He spoke to Aycliffe Today editor Martin Walker…
PWS were crowned Aycliffe Business Park's Company of the Year at last year's Make Your Mark awards ceremony.
The accolade was swiftly followed up with another major gong when, just a fortnight later, the fourth-generation family firm won the Manufacturing Award at the North East Business Awards (Durham, South Tyneside and Sunderland heat) at Sunderland AFC's Stadium of Light.
Both awards were richly deserved after PWS has established itself as one of Aycliffe Business Park's leading lights.
The company, which employs 350 people, has been around for more than 30 years, but is now one of the UK's leading kitchen distributors and bespoke worksurface manufacturers.
Managing director John Lennon has paid tribute to winning the local award at the 2017 Make Your Mark event.
Now – with the spotlight set to shine on the Xcel Centre for a fourth consecutive year – he's urging all businesses to enter this year's competition.
"PWS has a long and established history in Newton Aycliffe," said Lennon. "We've been here for 30 years, so to win an award direct from the community is a great achievement.Much of our workforce comes from within a close radius of Aycliffe, so it provides a good boost.
"As a business, being presented with an award was a great way to demonstrate what we do and what we have achieved across a number of areas from product and sales performance to our place in the regional business community.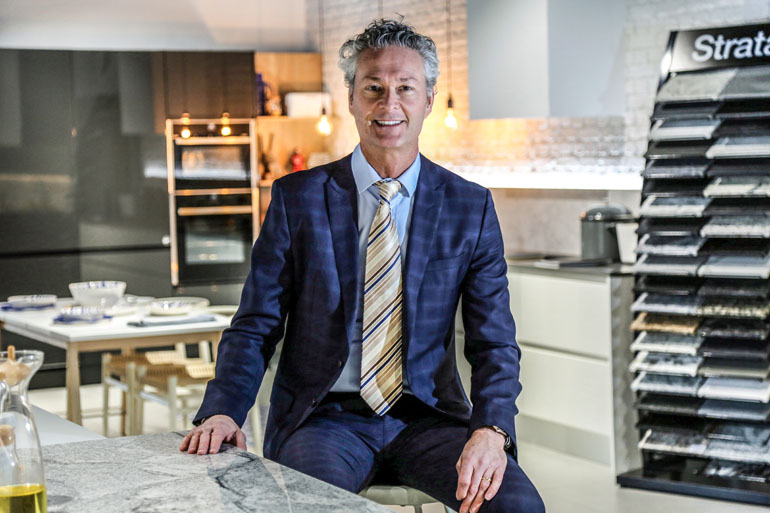 "The process of entering an award – putting pen-to-paper and specifically highlighting key achievements within investment, performance, people and innovation – is a great way to illustrate a company's successes and, regardless of the result, shines a light on the business in the community.
"And if you're successfully shortlisted or receive the winning award, it's a boost to the workforce and can add further gravitas to customers, business partners, and suppliers."
Make Your Mark will single out the business park's shining stars and recognise outstanding performances from the last year during a special event at the Xcel Centre, which is now being held on Thursday May 24.
Lennon added: "A community such as Newton Aycliffe houses businesses of various types, ages, sizes and scale, often living side by side.
"Awards such as this highlight the variety of businesses in the area and their individual achievements.
"So I'd say to other business 'go for it!'. Especially if you are nominating a company, person or team, the award will provide a welcome recognition."
The Make Your Mark organisers, Aycliffe Business Park Community (ABPC), have slightly changed the format of Mark Your Mark after listening to feedback from businesses, while changing the date to give firms extra time to enter the awards.
The 11 categories for Make Your Mark remain the same, with awards available for Engineering and Manufacturing, Apprentice of the Year, Apprenticeships & Training, Innovation, Service, Export, Newcomer, Small Business, Employer of the Year, Heart of the Community and Company of the Year. As usual, an independent panel of judges will decide on 10 awards.
ABPC chair Kerina Clark said: "We're again looking forward to the calendar event of the year for Aycliffe Business Park and its residents.
"Make Your Mark has brought to the fore some fantastic success stories about many of our companies and we hope to see more of them come forward to enter this year's competition.
"After listening to feedback, we have slightly changed the format of the evening to make it slightly less formal and allow more time for networking and socialising.
"But ultimately the main thrust of the event remains the same – to shout from the rooftops about all our great businesses here and to jointly celebrate our success stories."
The Make Your Mark 2016/17 winners included PWS (Company of the Year), Hitachi Rail Europe (Apprenticeships), Arlington Automotive (Employer of the Year), Premo Fabrications (Engineering & Manufacturing), Stiller Warehousing & Distribution (Innovation), Primex Plastics (Export), Beaumont Grounds Maintenance (Small Business of the Year), Trident Manor (Service Business), UTC South Durham (Newcomer), Ben Thubron, Baltic Training (Apprentice of the Year) and DISC (Heart of the Community).
The deadline to enter the 2017/18 Make Your Mark is Thursday April 12, and businesses can enter easily and quickly online at www.aycliffeawards.co.uk
MAKE YOUR MARK – THE CATEGORIES
Company of the Year
Apprenticeships & Training
Export
Innovation
Engineering & Manufacturing
Small Business
Service Business
Newcomer
Heart of the Community
Employer of the Year
Apprentice of the Year
HOW TO ENTER
It's really easy! Just go to aycliffeawards.co.uk and fill in the online form. But don't forget the deadline to enter is Thursday April 12.
TICKETS
Tickets are now available for Make Your Mark, priced just £17.50 each, which includes welcome drinks on arrival and canapés – they can be purchased online at aycliffeawards.co.uk