The boss of Newton Aycliffe firm PWS has inspired a remarkable, record-breaking fundraising effort.
Blood, Sweat and Gears was the brainchild of Mark Stephenson, CEO of PWS on Aycliffe Business Park, a challenge which successfully undertook a 500km cycling challenge across South Africa.
It was hoped to raise £250,000 for Help for Heroes – but it has now topped £314,000, making it the highest amount of any singular, third-party fundraising challenge ever donated to Help for Heroes.
In recognition of this phenomenal achievement, Blood, Sweat and Gears has received the Charity's Hero Award for Extraordinary Teams.
The money raised by the team will fund three additional psychological wellbeing advisors over three years for the charity's psychological wellbeing program; Hidden Wounds.
The programme delivers early intervention mental health support for wounded, injured and sick veterans and their families.
Melanie Dickinson, Interim Centre Manager at Phoenix House said: "We never doubted that Mark, PWC and all their supporters would reach their huge target of £250,000 but for them to surpass it, and by so much, is simply outstanding.
"It will go a long way to supporting beneficiaries with their mental wellbeing, enabling us to help change, and in some cases save, lives."
Mark Stephenson (pictured, above, receiving the award) said he was extremely proud to have made the record-breaking donation to Phoenix House, adding: "I extend my heartfelt and sincere thanks to our suppliers, customers and the truly great British public who embraced my 'pie-in-the-sky' idea.
"They were behind us all the way and ensured that Blood Sweat & Gears exceeded all expectations."
Among the cyclists were PWS staff, four veterans being supported by Help for Heroes, and ex-rugby international Will Greenwood, who described the challenge as one of the most incredible experiences of his life.
"We did it for all the right reasons, with generosity of spirit, warmth and – in no small way – funding to help do so much in Catterick," he added.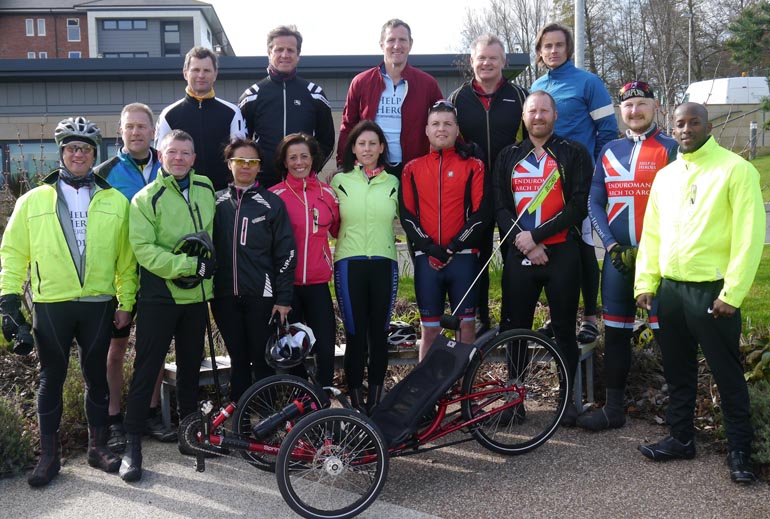 "I've had the opportunity over many years to work with some great people and many great teams but Blood Sweat & Gears, no question at all, goes right to the top of that list for integrity, humility and downright blooming courage."
The Hero Award were launched in 2010 by Help for Heroes co-founders Bryn and Emma Parry, as a way to say thank-you to extraordinary supporters for voluntarily going above and beyond and giving up their time to assist the charity in delivering lifelong support to wounded heroes.
Bryn Parry, CEO and Co-Founder of Help for Heroes said: "For those suffering an injury or illness due to service, their recovery can last a lifetime.
"Knowing they have remarkable organisations like PWS standing beside them, willing to do amazing things, will make a huge difference on their recovery journeys.
"Together we are rebuilding lives, so thank you and please keep doing your bit for 'the blokes'."