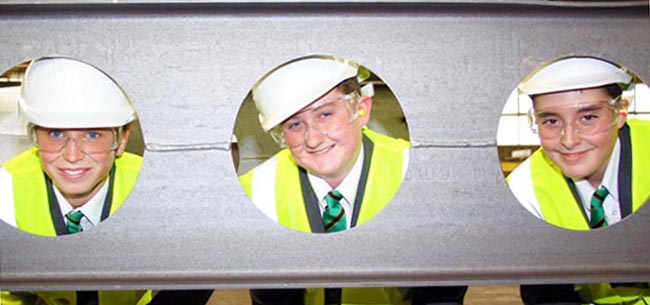 By Martin Walker
A senior school teacher has praised an exciting programme aimed at increasing the awareness of Apprenticeships among students.
More than 20 pupils from Woodham Academy in Newton Aycliffe visited local firm Finley Structures in the second 'phase' of a pioneering project which is designed to arm youngsters with a better knowledge of the options available to them on leaving school.
Finley Structures has joined leading Aycliffe firms such as Tallents Engineering, Aycliffe Fabrications, Palram, Ebac, Stiller Transport and 3M to launch the Apprenticeship Awareness Programme, which has been funded through the Great Aycliffe and Middridge Partnership (GAMP).
More than 150 year 9 students took part in a carousel of workshops, dubbed "speed networking", when the companies involved gave the youngsters a short insight into what they do.
The tutor groups were then allocated one firm which they visited this week, when they got to learn more about their chosen industry, from manufacturing to IT and HR.
Finley Structures staff downed tools for a morning as eight members of the firm's management team hosted 22 students from Woodham, when they were given a guided tour of the shop floor at their Aycliffe Business Park site.
Key staff, including directors Gary and Julie Finley – the son and daughter of owner John – also talked to them about production, structural engineering, estimating, accounts and HR.
Woodham's head of year 9, Neil Spoor, said: "This really is a marvellous initiative, it has given the students a real insight into the world of work and also about the opportunities that are available to them on their doorstep here in Aycliffe.
"There are lot of wonderful companies operating on Ayclife Business Park, such as Finley Structures, who offer fantastic careers in all walks of industries.
"It will certainly help them when it comes to their choices, and give them a clear insight into what's required if they want to pursue an Apprenticeship in, say, structural engineering.
"The Finley staff demonstrated how you can get to where you want to be by either going to college and university, or going down the Apprenticeship route, and for that reason this is an excellent programme.
"We're also very grateful to all the firms involved. They have all taken them extremely seriously, dedicating a number of hours from management and key staff to spend on this, and it's fantastic that they see the value of it."
Finley Structures regularly welcome students through their doors at Aycliffe, and have held numerous open days to show pupils how their new schools are being built.
Director Julie said: "We see this as not only an important part of what we're all about, but it's also about giving young people more educated options, so they know exactly what's involved in an Apprenticeship programme.
"Even if it isn't for them, this programme gives them a practical insight, so it helps them to make more informed decisions when it comes to leaving school and choosing their career path."
The project is being led by Woodham Academy with input from EDT, the largest provider of Science, Technology, Engineering and Mathematics enrichment activities for young people in the UK, and supported by both Woodham and Greenfield schools.
Finley Structures, formed by Mr Finley in 2000, now has a turnover approaching £12m and regularly wins contracts from 50-tonne to 2000-tonne nationwide.
● Pictured above is (L-R) Woodham Academy year 9 students Jack Hodgson, Harry Cousins and Matthew Poole during a visit of Finley Structures.
See more pictures of their visit below.