The creators of Aycliffe Today Business are branching out to launch a new quarterly publication for the Sunderland and Durham region, Wear Business – and space can be booked now from just £245.
Resolution Media & Publishing, owned by Aycliffe Today editor Martin Walker and his business partner Dave Allan, is joining forces with partners Graeme Anderson and Colin Young to launch Wear Business, as the region's only quarterly business publication.
Set to be distributed to firms across the Sunderland, Durham, Seaham, Peterlee, Washington, Houghton-le-Spring and Chester-le-Street areas, the first issue of Wear Business – which will be based at the BiC in Sunderland – is due for publication on December 6, with bookings for adverts or advertorials being taken up to November 22.
Martin and Dave are launching the new publication – which will be supported by networking events, a website and weekly enews – in collaboration with experienced writers Colin and Graeme, who are both natives of the Wearside region.
Middlesbrough-based Resolution publish the Tees Business and Tees Life magazines and organise the highly-acclaimed Tees Businesswomen Awards.
Colin Young is a freelance writer and has previously worked as The Sun and Daily Mail's North-East football correspondent, while Graeme Anderson is a former football writer with the Sunderland Echo who now runs his own PR agency in the city.
Martin said: "The response to the new publication has been hugely positive and we've already had much interest from businesses wanting to book space in the first issue of Wear Business.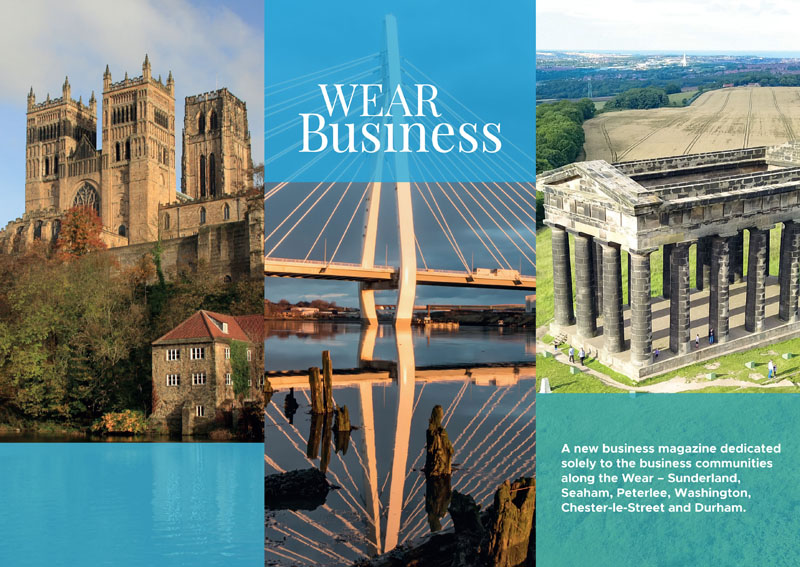 "Colin and Graeme are Wear Business's men on the ground, while Resolution's backing is the proven guarantee of a truly first class, professional publication that businesses will be proud to be associated with."
Dave said: "Just as Tees Business has become the voice of business in the Tees region, so we aim to make Wear Business a similar success across Sunderland and Durham.
"It will feature the same high quality look, feel and content, it will be seen everywhere across the Wear business region and will be brimming full of positivity about a region that – similar to the Tees Valley – often gets forgotten by other so-called North-East publications.
"With Resolution's experience of making a real success and impact with Tees Business behind them, Graeme and Colin will be shouting from the rooftops about all that is positive and happening in the Wear business region."
The new publication's 5,000 print run will be delivered FREE to the business communities of the Wear region four times a year.
Copies will also be directly mailed to the movers, shakers and decision-makers across the Wear Valley.
They will also appear in the business centres and the boardrooms; the hotels and the high streets; the restaurants and the retail centres of the region.
Rates to publish in Wear Business are:
Quarter Page: £245
Half Page: £395
Full Page: £645
Inside Covers: £745
Back Page: £845
Double-page spread: £1,075
All rates refer to traditional adverts and sponsored features (advertorials) – excluding VAT
To book or for more information contact:
Graeme Anderson – call 07739 300692 or email [email protected]
Colin Young – call 07808 974533 or email [email protected]
Martin Walker – call 07826 525907 or email [email protected]
Dave Allan – call 07711 025009 or email [email protected]