A growing publishing company says it plans to create future jobs, with a number of new publications in the pipeline.
Middlesbrough-based Resolution Media and Publishing – sister company to Aycliffe Today Business publishers Mantis Media – already supports more than 30 local jobs all year round.
Resolution is owned by former Middlesbrough FC colleagues Martin Walker and Dave Allan, who launched their company – named after Captain Cook's HMS Resolution – in early 2017 after the success of their pilot publication, Tees Business.
Aycliffe Today Business was in fact the successful business model which helped launch the Tees publications.
With the two established quarterly publications, they're printing a whopping 3.4million pages of news and features covering the Tees region a year, and reaching a combined audience of 50,000 people in print and online every quarter.
Resolution's printing work supports Middlesbrough-based MV Print and its 22 employees, while they also use a pool of more than 10 local freelance photographers and writers.
Award-winning local freelance design agency KINSHIP – headed up by Sarah Carlton, who designs Aycliffe Today Business – is utilised as well as local digital agency Eighty8 Design to create and maintain their websites.
Now the young but ambitious company says it plans to create full-time posts to support future growth plans.
Walker, who runs Aycliffe Today Business from his Mantis Media offices at Parson's Court in Aycliffe, said: "Our business model of the quality free publication funded by advertising has been a great success for us, and we plan to roll the same model out to other areas.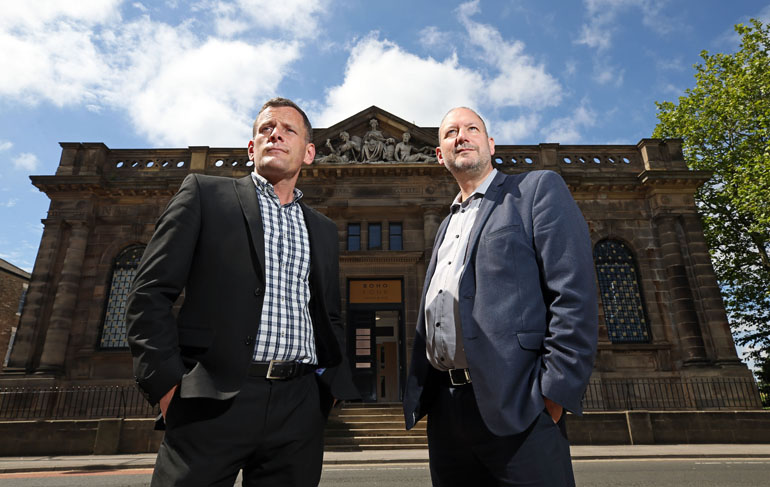 "We have some exciting plans for new business publications in other parts of the North-East as well as another publication for the Tees region.
"To support these plans we're aiming to take on new staff over the next 12 months which will enable us to grow, so it's certainly exciting times for us."
Co-director Allan, who also owns Middlesbrough-based DNA PR and Publicity, said: "While running our own businesses we started collaborating on Tees Business almost four years ago now.
"Despite people telling us we were making a mistake in launching a printed magazine 'in this day and age', we felt confident there was a gap in the market and a demand for certain types of publications – some people still like to read it in the hand.
"Since launching it has more than doubled in size and we've since launched a new lifestyle magazine which is heading in the same direction."
After 10 years working in the internal communications structure of petrochemicals giant ICI, Allan spent 17 years leading Middlesbrough FC's PR strategy throughout a period that took in five major cup finals, two UEFA Cup runs and a multitude of superstar signings.
Walker, who trained as a journalist with the Teesside Gazette, worked in Allan's media team at Boro from 2000 to 2005 and then spent four years in Sunderland AFC's PR team before starting his own business.
He launched Aycliffe Today in January 2012 and the business magazine was launched in November the same year.