Hitachi Rail Europe's newly-installed production team has started work on the first two train carriages at the Japanese firm's new £82m factory in Newton Aycliffe.
The first body shells arrived at the Rail Vehicle Manufacturing Facility on Aycliffe Business Park from Hitachi's Kasado Works in Japan in October.
"Knowledge transfer" between the two manufacturing sites is now firmly underway, say bosses.
Hitachi's state-of-the-art site – officially opened by Prime Minister David Cameron and Chancellor George Osborne back in September – is where the Government's new InterCity Express Programme (IEP) trains for the East Coast Main Line and Great Western Main Line, and AT200 commuter trains for Scotland, will be manufactured.
Hitachi is expected to employ more than 700 workers when the factory is fully operational next year.
Plant manager Darren Cumner said: "In Kasado, workers are trained for many years to ensure they build trains worthy of the Hitachi brand.
"We have been sending teams from Newton Aycliffe across to Japan to learn from our Japanese colleagues and we currently have some of our colleagues from Japan over here to support us in the manufacture of the first carriages.
"We are starting production here with a brand new multi-skilled team. We need to learn quickly from our colleagues in Japan so we can transfer this renowned Hitachi quality to the North East."
Mr Cumner says Hitachi's key focus in Newton Aycliffe is building skills.
He added: "Currently we are investing heavily in getting our new workforce ready to make the next generation of rolling stock.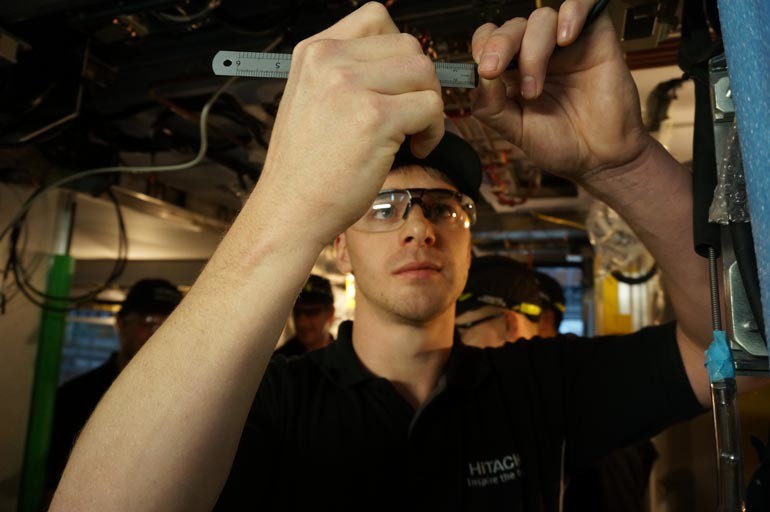 "We are also employing apprentices and graduates and plan to increase the number of these every year.
"Looking to the longer term and as founder members of the new South Durham UTC now being built on our doorstep for 14 to 17-year-olds, our vision is that these young people will become the future engineers, technicians and managers at our facility in Newton Aycliffe."
Aycliffe Today exclusively revealed last month how Hitachi has enlisted the help of a Newton Aycliffe emotional intelligence company to help develop and coach some of its key leaders – read more here.