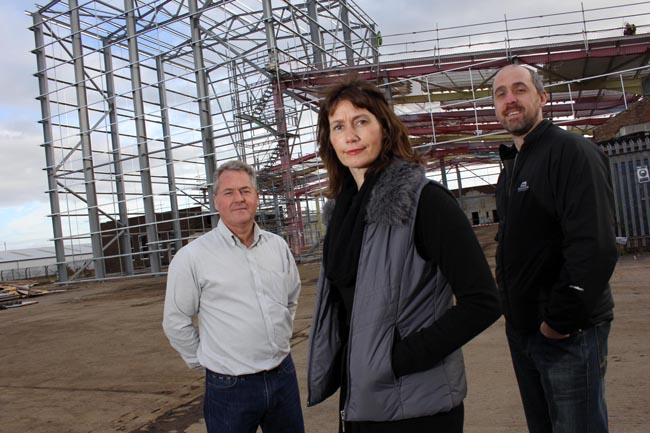 By Martin Walker
A once thriving industrial factory is back on the up after being stood derelict for six years.
The former Presswork Metals factory, along Durham Way South on Aycliffe Business Park, has been closed since 2008.
Now plans are in place to convert the building into a new leisure facility, with rock climbing being the main attraction.
The 70,000 square foot facility will include one of the biggest climbing walls in the country, standing at 20 metres tall, and will stage national tournaments. It will also be used by the British team for training.
Local construction firm Finley Structures purchased the site two years ago and a mixed-use licence was granted by Durham County Council 18 months ago.
Now more than £600,000 is being spent on the facility, with 150 tonnes of steel currently being constructed by Finley Structures.
It will be leased to local leisure firm Rockantics, which has been operating from Newton Aycliffe Leisure Centre for the last 20 years.
A huge steel frame which will house the 20-metre climbing wall has already changed the skyline on Aycliffe Business Park, and it's hoped the new Rockantics will be open in time for the 2015 Easter holidays.
Rock climbing is one of the fastest growing sports in the country, and Rockantics managing director John Crooks (pictured above with director Vicky Postgate and Finley's boss John Finley) said: "This is a really exciting time for us and we can't wait for the new facility to open.
"We get around 15,000 people a year using Rockantics in the Leisure Centre and we're expecting that to top 20,000 in this new facility.
"The 20-metre wall will be one of the biggest in the country and will be built to major competition specifications.
"We're still looking at what else to put in. We're hoping to include a 'clip-and-climb' facility which is proving to be a popular sport in itself."
In addition to the climbing facilities, Rockantics will include changing rooms, a cafe and private function rooms, but are considering other attractions for the rest of the building.
Mr Crooks added: "We're trying to come up with different ideas to what is already in the local area."
The former Presswork Metals building is one of the original World War Two munitions factories that still exist on Aycliffe Business Park.
And during the re-construction process Finley Structures made a number of interesting historical discoveries.
Managing director John Finley said: "We wanted to preserve as many of the original walls as possible, and as we started scraping some of them back to the original brick we found a lot of old signage relating to the War effort.
"One wall had a sign saying '3.5 shells' and another said 'this is your air raid shelter'!
"We also discovered an old railway line when we were digging the bases out, and we're assuming these would transport the ammunitions from the factory to the main national rail line.
"It's really interesting stuff and we feel it's important that we try to preserve this important piece of Aycliffe heritage, so we're planning on creating some sort of permanent tribute to the munitions workers which would be incorporated within the leisure facility for visitors to enjoy."