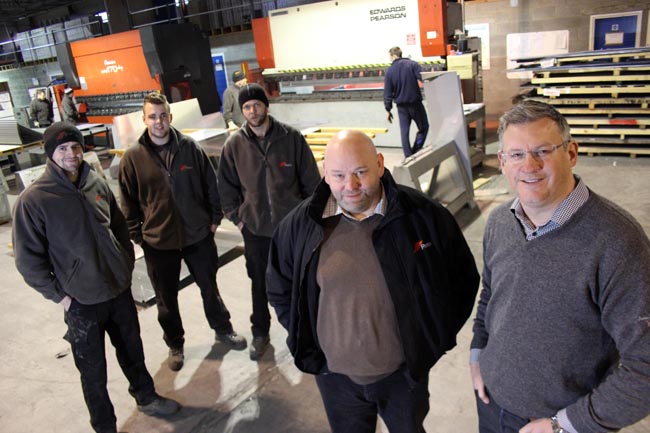 (Above, left-to-right): Fabricators Gareth Harman, Stephen Addison and Stephen Bell with directors Dave Knowles and Beau Stevens.

By Martin Walker
A Newton Aycliffe fabrication company has celebrated the end of its fifth year by hitting the £5m-mark.
Premo Fabrications, based on Aycliffe Business Park, specialise in the design and manufacture of high-quality sheet metal architectural fabrications such as rainscreen systems, pressings, fascias, gutter systems and rainwater goods.
Premo has just completed a £1.2m contract working on Manchester City's £200m Football Academy, this led to a further export supply package for Melbourne, culminating in a secured supply package for New York and a recent appointment to supply materials for the Etihad main stadium extension.
The staff at Premo are no strangers to football after completing an £800,000 contract for the Football Association at the England squad's new headquarters, St George's Park in Burton, two years ago.
They have also worked on many other projects up and down the country including Hitachi Rail Europe's £82m train-building factory in Aycliffe, Trinity Square at Gateshead and London King's Cross.
Now the firm is hoping to expand and take on more staff after building it up from the nine-man team it was when it started in December 2009 to the 30-strong workforce it is today.
"It's been a fantastic few years for the company and we're delighted with how things are progressing," said director Dave Knowles, who founded Premo with business partner Beau Stevens.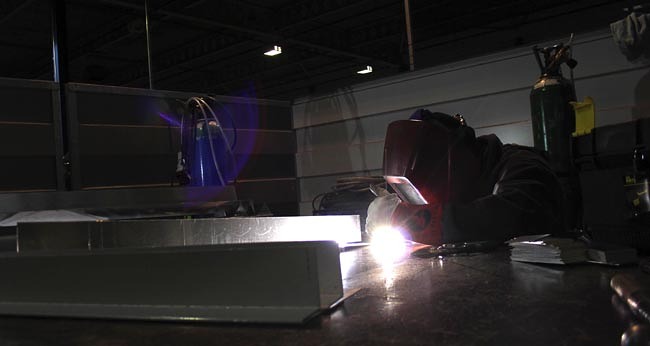 Fabricator Carl Bell at work in Premo Fabrications' factory on Aycliffe Business Park.
"But we couldn't have done it without our tremendous workforce. Their work ethic, skills set and positive attitude has enabled us to take on large-scale projects and deliver them within budget and on time.
"In our industry you don't often have a forward order book as such, the bulk of our work are short-term orders, but we're pretty confident going forward. Things are looking good."
Dave and Beau have accumulated over 50 years of experience between them in senior management and director level roles in what now are competitor companies in the North-East.
Their new venture turned over £2m in its first year and has invested heavily in state-of-the-art machinery – including CNC presses, turret punch and rolling equipment – as it has steadily built turnover up to £5m at the end of its financial year in November.
"We're already making an excellent name for ourselves working in the industrial, commercial, public and refurbishment sectors," added Dave.
"In Newton Aycliffe we're ideally placed to take advantage of a highly-skilled, local workforce, an abundance of top-quality materials and access to the best supply chain solutions around."
Other projects have included Selby Community College, Sainsbury's Northumberland Park, Axa Insurance HQ in Ipswich, the Waters Science Park in Wilmslow, South Glade Health Centre in Nottingham and the Gilmoss Waste Transfer Centre in Liverpool to name a few
Beau added: "We pride ourselves on having a very hands-on approach and being personally accessible to our customer base, this allows us to provide a superior service coupled with consistent, high-quality account management.
"We're extremely proud of what we've achieved so far but we're all determined to do even better in 2015 and beyond."
For more details about Premo Fabrications, call them on 01325 316204 or go to www.premofabs.com