A Newton Aycliffe factory which closed seven years ago has re-opened thanks to a £750,000 expansion by an existing fabrications firm, creating 20 new jobs.
Premo Fabrications has relocated from 28,000 sq ft premises at Coatham Avenue on Aycliffe Business Park to the former Thrislington partitions building on Durham Way South.
Thrislington closed the 90,000 sq ft site in 2008 after 62 years on the town, with the loss of 60 jobs.
But Premo Fabrications has created 20 new posts by re-opening the factory, including a new aluminium curtainwalling doors and windows manufacture facility and in-house design team, as part of ambitious long-term growth plans.
The firm was formed in December 2009 by directors Dave Knowles and Beau Stevens and in December last year it celebrated the end of its fifth year by topping £5m turnover for the first time.
Now Premo has plans to increase sales by 50% over the next two years and double it to £10m over the next five years, as well as creating at least 25 more jobs.
The company, which produces high-quality sheet metal architectural fabrications such as rainscreen systems, pressings, fascias, gutter systems and rainwater goods, started out with nine staff and quickly grew that to 30 by the end of 2014.
Premo now has 49 employees after investing £750,000 in its relocation, including outlays on new machinery and kit, enabling it to explore new markets.
Director Beau Stevens explained: "Our sector is constantly under pressure where price is concerned and we reached a stage where we felt we had to evolve into different markets.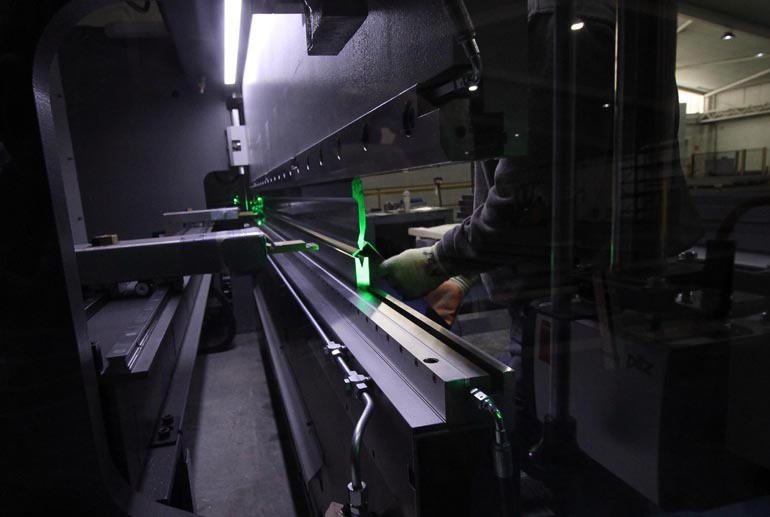 "While our growth was rapid in the first five years, we had to make decision on whether we wanted to make the transition from being a large small company into a small large company.
"It has meant a lot of re-investment into the company to not fund the expansion and allow the company to evolve, and we've done it without any loans or funding.
"We weren't necessarily comfortably evolving unless we were continually improving our product offering. We had to become more diverse in relation to the market place.
"So we've brought new products online which are complementary to the equipment we already have and the market that we already operate in.
"A lot of products we make are in the facade environment, and traditionally we would offer specific components in relation to the facade, which really dictates our bid success rates, but now we're as close the full facade offering as we possibly can be and we're offering a more package solution."
Part of Premo's plans include investing heavily in unitised curtain walling.
Mr Stevens added: "When you get to your city centres, building cartilages change and it's often a different type of build programme, and the timeframes are always tighter. Much of it is manufactured off-site ready to hang on to the building, as opposed to being assembled in-situ.
"We've had to adapt to that so we can accommodate those projects and make sure our turnaround time falls into line with them.
"Unitised blind installation means we do more of the onwards assembly of components and can result in anything up to a 60 or 70% reduction in the build time on site, but that requires a lot of forward mobilisation work to be done by us.
"It's not necessarily the cheapest alternative, but it's sometimes the only way you can complete a build within a busy city centre infrastructure.
"It isn't unique, but we think it's reasonably unique to the North East.
"We've also opened an full in-house design service, investing heavily in new software and people, which cuts in with every level in relation to all the products we offer.
"So the relocation has pulled a lot together. It was a long time in consideration, but we're more diverse now than we've ever been."
Premo is now looking to recruit facade designers and engineers and curtain walling designers as well as aluminium fabricators and sheet metal workers as it looks to crank up sales over the coming months.
Fellow director Mr Knowles added: "The key is structured growth.
"It has to be the right kind of work for us. We're a multi-faceted business now but a unitised project will bring work to all areas of the business."
Premo completed a £1.2m contract working on Manchester City's £200m Football Academy in 2014, which led to further export supply package deals in Australia.
The Aycliffe firm also completed the facade work on the Football Association's football headquarters, St George's Park, in Burton three years ago and has also worked on other high-profile projects including Hitachi Rail Europe's £82m train-building factory in Aycliffe, Trinity Square at Gateshead and London King's Cross.
For more details about Premo Fabrications, call them on 01325 316204 or go to www.premofabs.com