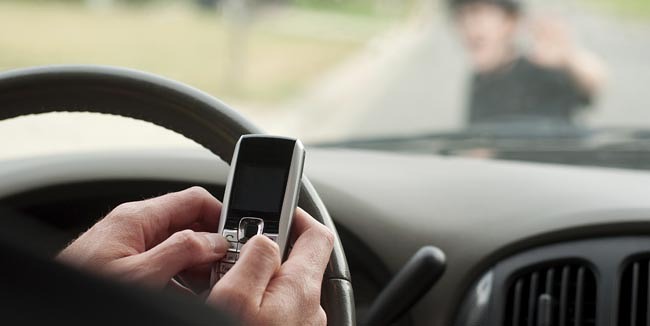 By Martin Walker
Police are launching a major crackdown across County Durham and Cleveland this weekend on motorists using their mobile phones.
The campaign will be carried out by officers from the Cleveland and Durham Specialist Operations Unit (CDSOU) over the week beginning Sunday, 25th January.
The aim of the campaign is to educate drivers and robustly enforce the law wherever appropriate, in support of the national campaign co-ordinated by ACPO (Association of Chief Police Officers).
The activity by the road policing crews from the CDSOU will be backed up by a series of casualty reduction messages across both Cleveland and Durham Police's Facebook pages and Twitter feeds.
From 1st January to 31st December 2014, a total of 891 drivers were issued with fixed penalty tickets for using a mobile phone at the wheel across the Cleveland and Durham police force areas.
A further 51 tickets were issued for instances when the driver was classed as not being in proper control of their vehicle – for example, consuming food or applying make-up while driving.
Those who are caught receive a £100 fine and have their licence endorsed with three penalty points.
If the case goes to court the offender can also be disqualified from driving or riding, and get a maximum fine of £1,000. Drivers of buses or goods vehicles could get a maximum fine of £2,500.
Figures compiled by the Department of Transport from police accident records, suggest between 2007 and 2012 – the latest time frame available – there were at least 480 crashes which resulted in fatalities, or people receiving serious or potentially life-changing injuries.
Chief Insp Alison Jackson from the CDSOU, said: "Driving any vehicle requires and deserves your full attention. To do anything else puts your life, the lives of any passengers and other road users at risk.
"You could become involved in a serious or even fatal collision as a result of your poor judgment.
"Over the next week our officers will be making this offence a priority and will stop anyone they see either using a mobile phone, or for some other reason not having full control of their driving."
One recent case illustrates the tragic consequences of drivers using their phones while at the wheel.
In October last year, van driver Timothy McLoughlin was jailed for three years and nine months after he admitted causing the death of a Middlesbrough man less than a minute after he used his phone to send a text message.
Graham Devlin, 55 from the Linthorpe area of Middlesbrough suffered fatal injuries while he was riding his pedal cycle on Haverton Hill Road, Billingham in November 2013.
He died when McLoughlin lost control of his Mitsubishi L200 pick-up and crashed into him, while carrying out a dangerous overtaking manoeuvre.
He had been trying to overtake between two traffic islands when he panicked, cut in sharply, hit a van and careered across the road. The vehicle then hit Mr Devlin, who was wearing a high-visibility jacket on a cycle path set away from the 40mph road.
McLoughlin had sent a short text message 45 seconds before another driver rang 999 to report the tragic accident.
Last September, Teesside Crown Court heard it was likely that his use of his mobile phone contributed to the crash.