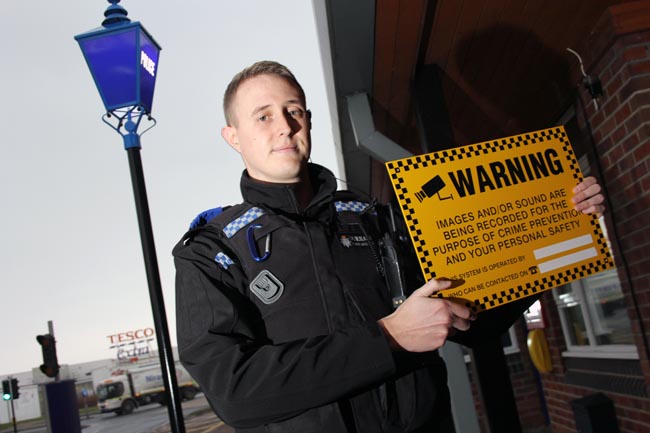 By Ryan Burton
Police are appealing for residents of Newton Aycliffe who have their own private CCTV cameras to help set up a crime-busting network.
Durham Constabulary want to set up a database in Newton Aycliffe made up of CCTV cameras in the town to help assist with future enquires and investigations.
PCSO Mike Hutchinson (pictured above) is heading up the project as part of the Newton Aycliffe Neighbourhood Policing Team.
"In an ideal world we want to get a CCTV database up where if a crime does occur, we can look on our system," said Mike.
"The more CCTV cameras we have on our system from surrounding houses, the more it will help speed investigations up.
"We just need details of where the camera is and the sort of area it covers. As well as a name and contact number in case we need further assistance with our enquiries."
The database will help assist with crimes such as burglary and criminal damage in the area.
The police have already taken details of a number of private CCTV cameras in residential areas but require more.
Mike has been complimentary of the residents of Aycliffe.
"The residents of Aycliffe have been fantastic.
"We tend to find a lot of people who have CCTV in their homes already and are more than happy to help us.
"It does help massively. We've had a lot of success from using private CCTV."
An initial database has been set up already, but Mike wants to progress further with building it up further.
"For a good database to be set up. We've set a timeline of around six months.
"It's a quarter of the way there, we just need to top it up and identify any cameras we don't know of."
If you have private CCTV and have not made the police aware of this. You can either contact Mike through e-mail [email protected] or dial 101 and ask to speak to PCSO 7564 Mike Hutchinson.