By Martin Walker
Prime Minister David Cameron and a host of MPs have praised a local charity for the good work it's done during a special reception at the House of Commons.
Ex-footballer and former Newton Aycliffe resident Colin Cooper – the Boro legend who now manages League Two side Hartlepool United – set up the Finlay Cooper Fund with his wife, Julie, in 2006 after the tragic death of their son in 2002.
Aycliffe Today's officially adopted charity was given a special reception in Parliament on Tuesday night, attended by Sedgefield MP Phil Wilson and the Shadow Secretary for Health, Andy Burnham, as well as a number of other MPs and special guests.
All three party leaders sent messages of support, including No.10, which said the prime minister was "very sorry to read of Colin and Julie Cooper's tragic loss".
The letter added: "It is heartening to see the support they have received for the Finlay Cooper Fund."
Labour leader Ed Miliband sent a personal note, saying: "The way in which you are bringing help and support to thousands of people through the memory of Finlay is truly inspirational."
Nick Clegg added: "This charity does incredible work. It's an inspiring and powerful legacy and one which I hope the Coopers can continue to build – in the name of their son, Finlay – in the years ahead."
Former Boro, Millwall, Nottingham Forest and England defender Cooper admitted the whole experience could well top his achievements as a player.
He said: "It's a really surreal thing to be invited here, to actually pull up in a taxi outside the House of Commons and be allowed in, have a look around and be shown into a room where there's a hundred people there to help us promote, support, celebrate the work we've been doing at the Finlay Cooper Fund for the last seven-and-a-half years.
"I had a wonderful experience as a professional footballer, I was given many opportunities to do many things, but I'm not sure if this tops the lot.
"In these surroundings, I found it really surreal. But I also found it amazing. I'm sitting here and out that window is a terrace overlooking the River Thames. As a kid from Trimdon Village, that's not supposed to happen."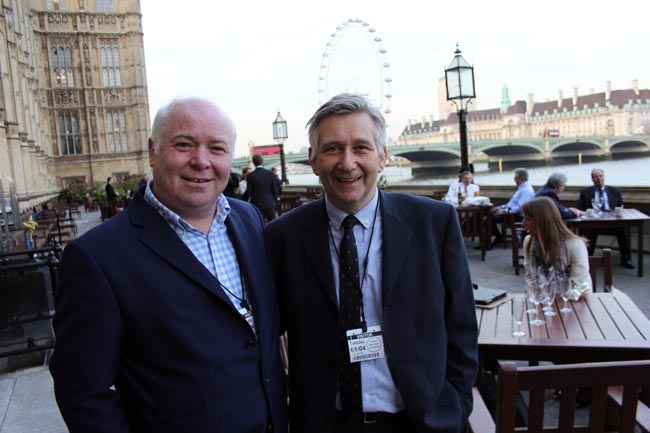 Artist McKenzie Thorpe at the event with Richard Mortimer, chairman of Aycliffe firm HPM & Addo
Since Finlay died, Colin, Julie and supporters have raised more than £300,000 for children's charities across the North-East.
Last year Colin climbed Kilimanjaro to raise money, along with Boro legend Craig Hignett and Sky Sports anchorman Jeff Stelling.
The event in Parliament was arranged to support the charity and raise awareness of its work.
"It's been brilliant," added Cooper. "Much, much more than I ever thought it could be. The one thing that came across is that people seem to be in awe of us and we don't feel like that's what we're doing.
"We all know the story of what happened to Fin and all we're doing is trying to turn something that happened to us 12 years ago into something positive.
"I feel very humble, very honoured and very privileged to be allowed to be in a place of this stature and speak about our charity."
The event was supported by National Express, the Premier League, Football Association, PD Ports and Linney Group.
You can donate to the Fund via www.finlaycooperfund.co.uk