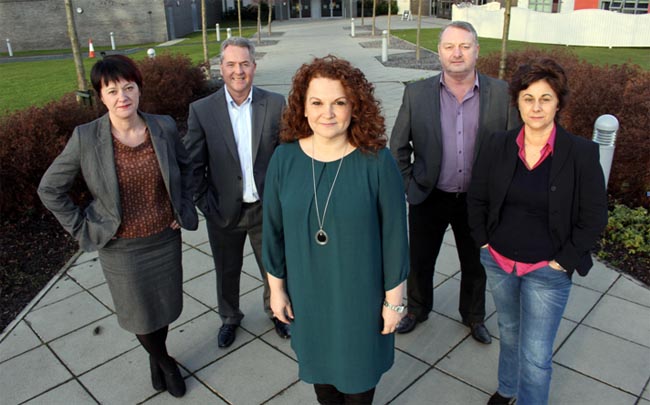 By Martin Walker
Talks are underway to officially formalise the Aycliffe Business Park Community (ABPC) Steering Group which will create a more powerful entity.
The ABPC, which celebrates its second anniversary in January, has revealed plans to create an official organisation in 2015.
The Steering Group, currently an informal association, says a recognised body will have more power to access funding to pay for projects.
ABPC, which currently relies on volunteers and help from Business Durham, would then potentially be able to employ staff or pay local firms to carry out work.
It would then be able to make even more progress after a hugely-successful couple of years which has brought lots of businesses together and helped to create a community spirit on the park.
In a Video Interview with Aycliffe Today, chair of the group Kerina Clark, managing director of the Xcel Centre, said: "It's been an interesting couple of years. We feel like we have a really good foundation now, but we feel we need to build on that.
"So we're in talks and taking advice about formalising the steering group and formalising the community group on the business park.
"We feel we need to be some kind of formal entity. What it means for the future is we can look at joint procurement, insurances, joint purchasing and also access funding to do projects on the park.
"At the moment we can't do that as an informal group, but we really feel to be able to go to the next level and be sustainable for the future we think that's what the park needs and, from what we've heard, it's what businesses want as well."
The Steering Group – which currently consists of Kerina, Pamela Petty, John Finley, Rachel Townsend Green and Dave Spensley (all pictured above) as well as John Parnell from Business Durham – launched ABPC in January 2013 at an event attended by 100 local businesses, and in September this year hosted its inaugural Make Your Mark awards evening.
Kerina added: "We've achieved a lot as an informal group. People are very surprised at the amount we have achieved.
"So we are really encouraged but we don't want to lose that momentum, and I feel we've hit the lid in what we can do informally. It does limit us.
"Because businesses are asking us to do more, and we feel we can do more, the logical step is to formalise it and build on what's been achieved.
"And imagine the possibilities of what we could do from there."
Go to our Video Vault to see the full interview.