Sky Sports News reporter Keith Downie says he wouldn't be surprised if he's soon interviewing some of Woodham Sports Academy's young athletes in the future, after he presented them with certificates.
Downie presented young people from Woodham Academy in Newton Aycliffe with a series of awards at the school's annual Sports Academy presentation, held at the Xcel Centre on Aycliffe Business Park.
The North-East football reporter for Sky Sports was impressed by the wide provision of sport on offer to students at Woodham.
Click here to see a short film from the presentation
"I wouldn't be at all surprised if I'm interviewing someone one day and I remember them from this presentation," said Downie.
"For someone who interviews big name sports stars, I get just as much satisfaction from seeing young people collecting awards or even just seeing them enjoy themselves as much as they have, and it's lovely to see them taking part in so many different sports.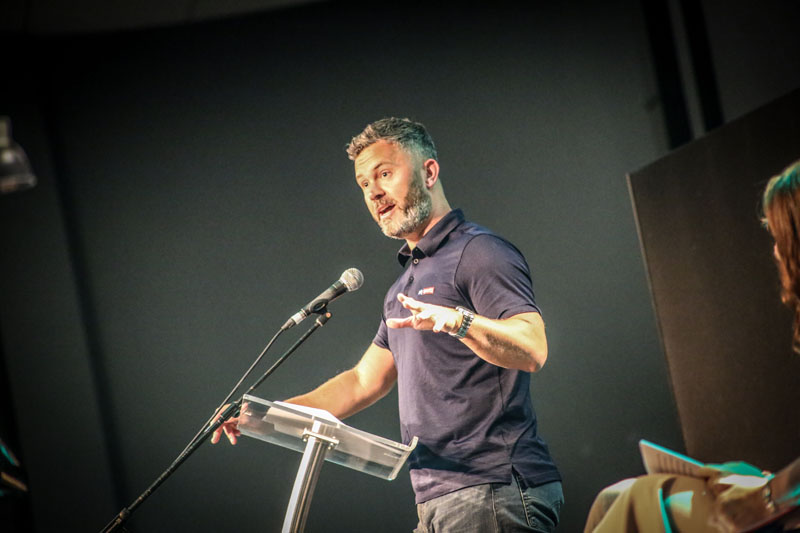 "To see these young people not just winning awards, but essentially dedicating their lives to sport, and getting their rewards for it, was nice to see.
"And even if they don't become professional, as long as they enjoy it and it can help to round them as a people."
Scroll down to see our picture gallery
Woodham Sports Academy was launched seven years ago. Now, more than a third of the school's students are signed up to it, participating in football, swimming, dancing, water polo, gymnastics, netball, mountain biking, handball, table tennis, cricket, boxing and basketball.
In delivering some of the coaching, Woodham Sports Academy partners up with the Durham County Cricket Board, Durham Wildcats, Newton Aycliffe FC, Northumbria University, Premier Player Football Academy, Sedgefield Water Polo Club and Joanne Banks Dancers.
Since launching, students in Woodham Sports Academy go on to achieve a quarter of a grade better than non-Sports Academy students, while Sports Academy students average five-plus GCSEs.
Sports stars including Ross Turnbull, Jason Steele, George Courtney and David Parnaby have presented at previous Woodham Sports Academy presentations.
Hannah Kent, director of Woodham Sports Academy, added: "It was nice to have someone who could talk about sport from a different angle and for students to see the different routes into sport.
"It was a fantastic night celebrating the end of another highly-successful year for the Sports Academy and the school all-round.
"We have more people in our Sports Academy than ever before, and all our students have been fantastic, so we're really proud of them."
Students handed awards at the 2018 presentation included Harrison Pearson (Year 7 individual achievement award), Abbie Johnson (Year 8 individual achievement award), Ryan-Jay Griffiths (Year 9 individual achievement award), Ava Thomas (Sports Academy KS3 contribution to sport award), Dance Academy (Sports Academy team of the year), Jak Hardy (Sports Academy Year 10 individual achievement award), Angel Woods (Sports Academy Leader of the year), Poppy Stephenson (Sports Academy Year 11 individual achievement award), Jessica Cherrie (Sports Academy sports personality award), Jake Mendelsohn (The Mark Bulman award).