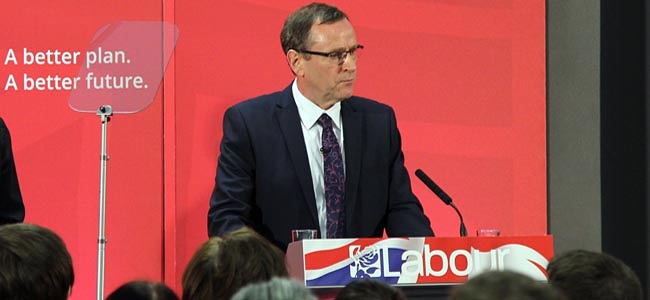 By Martin Walker
Phil Wilson jumped on the Labour Party's campaign about Europe today during Tony Blair's visit in Newton Aycliffe.
Labour's candidate for the Sedgefield Constituency in this year's General Election, who has been an MP after succeeding Mr Blair in 2007, says Hitachi Rail Europe wouldn't have come to the UK if Britain wasn't a member of the European Union.
The Japanese firm will create more than 700 direct jobs when construction of its £82m train-building factory is completed later this year.
The issue of Europe is forming a major battleground between Labour and the Conservatives in the General Election dog fight, with the Tories promising a referendum before the end of 2017 if they are in power.
But the Labour Party – supported by Mr Blair today – says leaving the EU isn't an option.
During his short speech before Mr Blair's address at the Xcel Centre on Aycliffe Business Park on Tuesday, Mr Wilson said: "Hitachi Rail Europe came to the UK and Newton Aycliffe for three reasons.
"The skills of local people, because of the previous Labour government's decision to replace existing rolling stock with new rolling stock through the Intercity Express Programme, and for which Hitachi became the preferred bidder and then chose this site back in 2009.
"Thirdly, Hitachi Rail Europe isn't called Hitachi Rail Europe for nothing. They want to use Aycliffe as their base to export to the rest of Europe, and being based here gives them access to the EU market, providing them with the opportunity to expand on the 720 jobs they've already brought to the town.
"The EU is important to Newton Aycliffe, the North East and the UK, and I want to be part of any campaign to ensure the UK remains part of the EU."
The Conservative candidate for the Sedgefield seat, Scott Wood, disagrees with Mr Wilson and says he wants to see a referendum.
"Let's put this to bed and let the public decide," he said.
Click here to see Mr Wilson's speech in full.