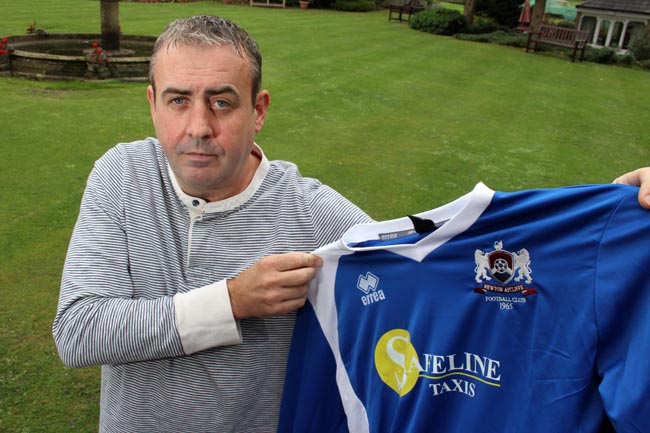 By Martin Walker
Newton Aycliffe FC have pulled off a shock coup by appointing former West Auckland boss Peter Dixon as their new manger.
The 46-year-old takes over the reins at the Aux Audio Stadium with immediate effect after today's derby defeat at home to Shildon.
His first game in charge will be at home to Penrith on Wednesday night (7.45pm).
Dixon twice guided West to Wembley in the FA Vase while he was also just pipped to the Northern League title two years ago, but left the club in August.
Click here to see our exclusive interview the new manager
Following Dixon to Aycliffe is his assistant manager Paul Foster, first team coach Gus Di Lella and coach Craig McRobie.
And at least four or five new signings are expected over the next few days as Dixon begins his rebuilding work.
"We're hopeful we can get some decent results and start to get the fans back," said Dixon.
"Allan (Oliver) has told me about the type of crowds they've had before, 600 for a second division game which is unheard of in this league and up to 300 in their first season in the first division.
"It's kind of faded away, which has coincided with poor results. The league position speaks volumes and Allan has asked me to come in and improve fortunes on the pitch.
"Allan is confident that if we do improve things on the pitch it will attract more interest from supporters."
It was chairman Oliver who persuaded him to join the club, while Aycliffe's commercial and PR work off the field during the summer has put them in a sound position to be able to meet Dixon's requirements.
"Allan rang me a couple of weeks ago and we've been having discussions over the last two weeks, and he's done a good job of selling the club to me, in terms of the potential," said Dixon.
"Allan is a football person and he's been the biggest attraction to come here.
"He sold the whole set-up, which is second-to-none at our level. Everything is in place apart from the team on the pitch, so hopefully we can do that."
Oliver, meanwhile, has hailed the appointment after admitting his club had "stagnated".
"To say we're delighted would be an understatement," he said. "This is a great opportunity for Newton Aycliffe Football Club."
'GETTING DIXON IS MAJOR COUP' – OLIVER