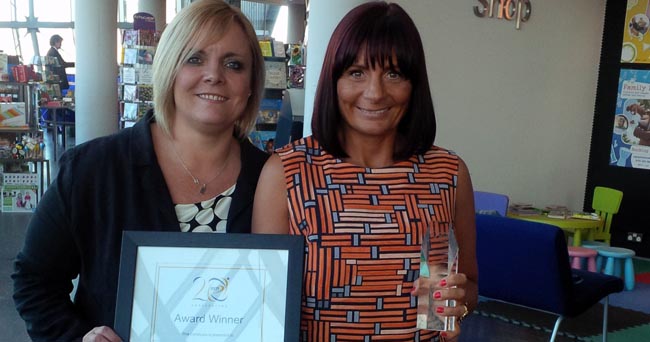 A volunteer who started out helping people with alcohol addictions has been recognised in a national awards ceremony.
In July last year, Sharon Stokoe celebrated two years free from her alcohol addiction by starting work with Pioneering Care Partnership's (PCP's) Senior Health Trainer programme.
She wanted to volunteer in her local community to help people who had faced similar problems to her own.
Now a qualified Alcohol Health Trainer Champion Sharon has just won the Life Changing Learning Award as the North East region of OCN celebrated their 20th anniversary at an event at the Sage, in Gateshead.
Sharon's learning achievements include Brief Interventions Level 3 and Helping People make Healthier Choices Level 3, both delivered by PCP.
Sharon, from Shildon, had previously suffered mental and physical health problems.
As well as recovering from her alcohol addiction she was also recovering from an eating disorder.
Sharon wanted to support people in a similar position to her own so she met with Marie Robson, Senior Alcohol Health Trainer for PCP and started training to become a Health Trainer Champion, providing peer support to clients who are accessing Community Alcohol Service (CAS).
Sharon says: "Winning this award is nothing short of a miracle. I was a chronic alcoholic for around nine years, this cost me my family and friends.
"I had so many hospital admissions even suffering a brain haemorrhage requiring surgery.
"I now have just over two-and-a-half ears sobriety and I wanted to help other people still suffering from Alcoholism.
"I do this through the volunteering opportunities PCP has given me. I have done many different courses since getting sober and enjoyed each and every one.
"To be nominated for this Life-Changing Learners Award means so much to me it really is more than I could ever have imagined."
Marie says: "Sharon was a willing and enthusiastic learner who supported her peers in the group by sharing her experiences and offering help and advice."
Sharon's next destination is to train to become a Cancer Champion for PCP – volunteering to support those affected by cancer.
For further information on volunteering and learning opportunities or projects available through PCP, contact 01325 321234, [email protected], www.pcp.uk.net
Sharon is pictured (above, right) with Senior Health Trainer Marie Robson after being presented with her award at a ceremony at The Sage, Gateshead.