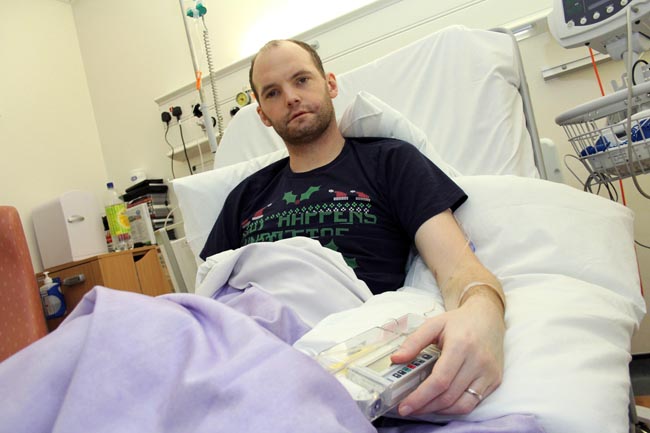 Newtonian and Aycliffe Today writer Paul McGeary is writing blogs from the bedside during his battle with leukemia…
Work, Rest and Play
At full health, I enjoyed them all. Probably in that order, too. Whatever my health numbers now, these three words mean much more to me. "You need to relax, switch off…" No, I need to keep going, I need to occupy my mind. A healthy mind, means a healthy body, right? Before my illness, I was engulfed in organising a stag weekend, full up with freelance football work for the Festive period and still correcting the grammar of a fellow blogger – an arduous task indeed! I can't switch this off, I won't switch this off, I've had offers to switch these off; I won't. This is part of me, part of the fight ahead, and this ethos will see me through to a full recovery.
Setting the Scene
When I decided to write this Blog, I didn't want to confuse it as a diary entry. "Dear Diary, today I was sick, but I managed to hold my tea down until the end of Eastenders." No-one wants to read that, this is about a fight, strength, a place for inspiration. However, this is really happening, and here's a bit of background for those of you yet to play a part. I was admitted late November, into a private side-room in James Cook hospital. One week later, I got moved to a Bay. "Closer to the door…" A positive?! Well, it was the front door. But it certainly was no positive for me. This was the Departure Lounge. There was a way out, but I couldn't take that route! Now we're all battling in here, fighting to within a scrap of our lives, but I had to get out. I close my curtains, I do what I said I'd never do, and I "switched off!" For those in the Departure Lounge, I certainly hope they draw strength and leave through conventional means, but I must get back to isolation. I must get back to my own private fight.
Small Steps
I'm eventually moved – a virus risk – I'll take that. I get my way. A small, but generous relocation across the ward. My thoughts now turn back to my fight. Those who know me, know I like numbers. I believe through reading that I am one of every three people in this world with this disease. I do my Maths, I've got it, so that means Becky and Niamh will never have it. I've won a huge part of my fight right there. Spirits are high. The front man has swaggered on stage for his first phase, and now he's left his backers to keep the tune going for a while. He'll be back. Things are going good. Then Niamh takes her first steps. I always said she'd walk for Christmas, but in this case I'm heartbroken. I've missed it, such a milestone and I've managed to catch it on a video clip sent from home. The fight starts to drain again, how much more will I miss? Christmas, for starters. I've stood at the shoulders of two of my best friends this year and proudly been part of their respective marriages. I'll once more have the honour for a third in a few months time. I've watched proudly as Thomas has graduated from University, and developed into a mature young man, putting his elder sibling to shame. I've watched Becky bravely establish her own business, and fight every day to make a success of it in order to be there for Niamh – and now, myself too. I must make sure I never miss another thing again. The fight returns.
Charity – It begins where my journey ends
I've always tried to support Charity. Search YouTube close enough and you'll see a month's worth of ice buckets being poured over my head and down my back for The Miscarriage Association. Get me talking about Tough Mudder down the pub. I've done my bits. I need to do more. Work, Rest and Play remember. Leukaemia and Lymphoma Research is close to me through my best friend and his family. I've shook the buckets, bought the raffle tickets. I'm embarrassed, I must do more. I am doing more. My PR contacts are hurried, the shots are taken, the plans are in place, now we all start the fight. Whatever you can give to our cause, we will save lives and one in three will soon become a wider margin, and your fight may be not have to be so great next time. You can donate here http://www.justgiving.com/fundraising/Paul-McGeary2
Driving Home for Christmas
Chris Rea, famed from these parts – I'm told – that Christmas song every year?! Don't pretend, you know it. You sing it. My drive home for Christmas is a different drive. A blood drive. Again, you can take part. I won't be driving home this Christmas, but I'll waken a happy man on Christmas morning at my hospital bedside, if our efforts of a communal Blood Drive come to fruition. The main hub is Newton Aycliffe Community Centre, there's various other stations around the country, some of you have already signed up. Christmas Eve is the date and our fight is to give blood, back to those who have fought to give us in need of it.
Contact Becky McGeary on 07810423201 for further sign-up details.
–Ends–
Paul McGeary; Ward 33, James Cook University Hospital, Middlesbrough
Please stay engaged with my journey and try to draw any inspiration from it, whatever your own individual fight is. Support me every step of the way by reading my Blog entries, and keeping in touch via my Twitter feed @PaulMcGeary – your support so far has been overwhelming, and played a huge part in me reaching my Chemotherapy Phase One milestone. I'll have ups and downs, but knowing you're all there when I eventually get off this rollercoaster, just makes the journey that little bit more comfortable for me. Thank you.
#NotOneInch