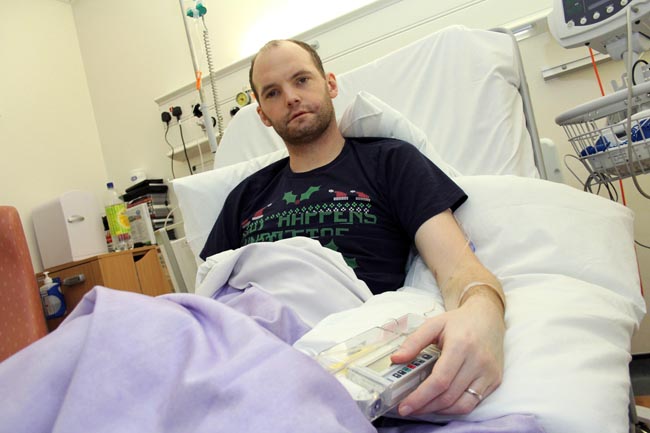 By Martin Walker
Inspirational fundraiser Paul McGeary has set an ambitious goal to reach the £10,000 mark after almost doubling his original target.
The 33-year-old Newtonian, who was diagnosed with leukaemia at the end of November, has been undergoing a gruelling programme of Chemotherapy at the James Cook Hospital in Middlesbrough since early December.
Paul and his wife Becky launched a fundraising campaign for Leukaemia & Lymphoma Research before Christmas, and their #NotOneInch appeal has almost reached £4,000.
Their Just Giving page has reached £3,200 in online donations, while off-line events and donations top it up to just under £4,000.
While more fundraising ideas are already in the pipeline, including a bucket collection at Newton Aycliffe FC's derby match at Shildon today (Saturday), while Darlington FC and Spennymoor Town FC have both generously committed to hosting collections in the near future.
In his latest blog, Paul said: "A former work colleague is doing Dry January and raising sponsor money while my friend and former neighbour is losing 14lbs in exchange for £14 throughout the month.
"There's also a 60s night at Bishop Auckland Rugby Club, while Becky is rallying a few friends to sign up for the Great North Run in September and thre's talk of the Coast-to-Coast, Triathlons, Total Warrior, 10km fun runs, sports auctions, further bucket collections, sponsored head shavings, waxings, curry nights…
"The list goes on and with every person who gets in touch with ideas, there's a sense of warmness, pride and determination to see this project through.
"We're determined to raise £10k by the end of the year and as with everything else on this journey, we're going to do it, with every ounce of fight we have.
"If anyone has any fundraising ideas, or wishes to take part in any of the aforementioned schemes, then please do get in touch; as with this individual fight, I need your help and support every step of the way."
You can donate to Paul and Becky's fund by clicking here.
Anyone with fundraising ideas can email Paul: [email protected]