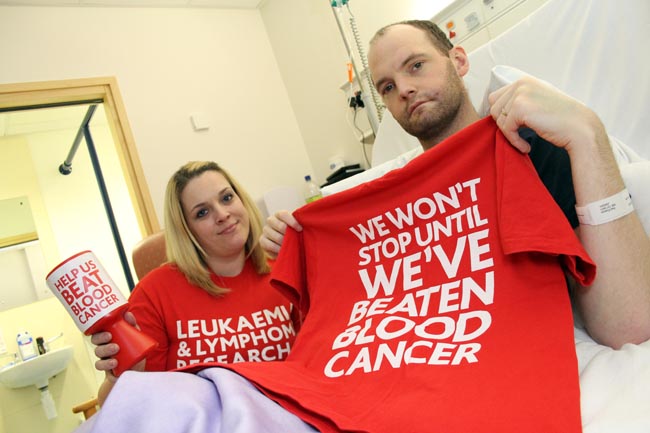 A Newtonian struck down with leukaemia just weeks before Christmas is selflessly asking people to donate to charity over the festive season.
Married dad-of-one Paul McGeary will spend Christmas in hospital after he was delivered the blow on Friday 28th November that he'd been diagnosed with an acute form of leukaemia.
His 14-month-old daughter, Niamh, isn't even allowed to visit him during his time there – Paul had to watch her on Skype as she took her first steps at the weekend.
But instead of wallowing in self-pity, the football-mad secondary school Maths teacher and his wife Becky want to raise cash to help fund research into the killer disease.
Paul's "Not One Inch" appeal – dubbed from a Twitter hashtag, meaning not to give leukaemia one inch of respect during his battle – will raise money for Leukaemia & Lymphoma Research through his own Just Giving page.
"I've been told I have a 90% chance of recovery, so I'm one of the 'lucky' ones," said the brave 33-year-old, who is writing emotive blogs during his two-month course of chemotherapy at the James Cook Hospital in Middlesbrough.
"I could have been diagnosed with a much more severe form of leukaemia, but evidently acute in this form means aggressive and in the three weeks since the bruises have appeared, the leukaemia has taken its hold.
"I'm here to be cured, but I have a long road ahead of me."
Paul, known in Aycliffe for his voluntary role with Newton Aycliffe Football Club, wants to encourage people to give blood during the festive season – a crucial period for hospitals – and is encouraging people to sign up to a Christmas Eve 'Blood Drive'.
But he also wants to raise vital cash which will go towards research that will ultimately save lives.
Leukaemia & Lymphoma Research is a leading UK cancer research charity dedicated to improving the lives of patients with all types of blood cancer, including leukaemia, lymphoma and myeloma.
"The research they have already done in the past will help me beat this disease," added Paul, who works at Sedgefield Community College.
"But fundraising is vital so they can continue their work and, in time, increase recovery rates for all forms of leukaemia."
Paul has set up his own Just Giving page and you can donate now by clicking here.
You can follow his blogs by clicking here. Or follow him on Twitter: @PaulMcGeary