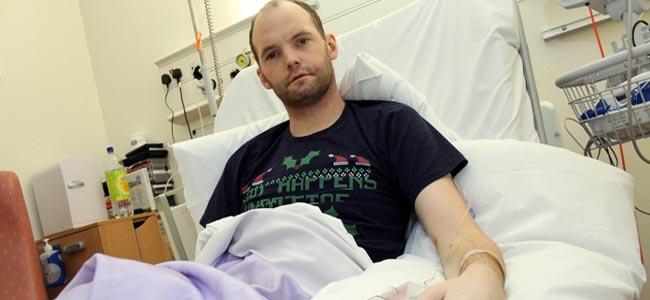 Brave Newtonian Paul McGeary has been handed a New Year surprise – a few days at home with his family.
The 33-year-old, who was diagnosed with leukaemia at the end of November, has been undergoing a gruelling programme of Chemotherapy at the James Cook Hospital in Middlesbrough since early December, where he spent the festive season.
But he has been offered a timely reprieve by doctors, and will return home for a few days today to see in the New Year with his family.
"I've lost a lot of weight so I'm quite weak, but medically everything is above board and there's no requirement for me to be here, so they've recommended a few days at home for morale," said Paul.
Paul revealed in his latest blog a few days ago that the first phase of Chemotherapy resulted in a "near 80% flush of all things bad inside me".
The gruesome side-effects had also eased in recent days, with Paul able to eat solid food for the first time in over a week.
"The ulcers rescind somewhat, I seize my chance. I start to eat again," wrote Paul in his blog.
"Hopefully this nutritional handcuff can be removed soon. I can speak again now too. I may start answering my phone again."
Click here to read Paul's latest blog in full.
Meanwhile, Paul and his wife Becky embarked on a courageous fundraising campaign for Leukaemia & Lymphoma Research a few weeks ago, and their #NotOneInch appeal has already topped the £3,500 mark.
Their Just Giving page has reached £3,090 in online donations, while staff and pupils at Sedgefield Community College, where Paul teaches, raised £484 just before Christmas from a non-uniform day.
Other off-line donations exceed £100 while there are many other fundraising stunts being planned this week and long into the New Year which will further boost the fund.
Paul added: "The page will continue to run, and already we have some other fundraising ideas in the pipeline for 2015, which will see us go above and beyond the kind donations received to date."
You can donate to Paul and Becky's fund by clicking here.
You can also follow Paul's story on Twitter @PaulMcGeary