Emergency services and families who have lost loved ones in car crashes have joined forces to deliver a hard-hitting road safety campaign in Newton Aycliffe.
The parents of Nick Davidson and Michael Sanderson told teenagers at 'WiseDrive – Drive for Life' that their lives would never be the same following the death of their sons.
Anita Thompson joins the annual event every year following the death of her son Nick in a crash near Barnard Castle in 2014.
Speaking at this year's event, held at The Wo0rk Place on Aycliffe Business Park, she said: "It's difficult coming here but I do it because it's important.
"I stand up there and tell my story to make it real for them. I can't let Nick be a statistic. I can't let this be for nothing and so this is what I do. I let them see that I could be their mum stood up there talking about their brothers and sisters.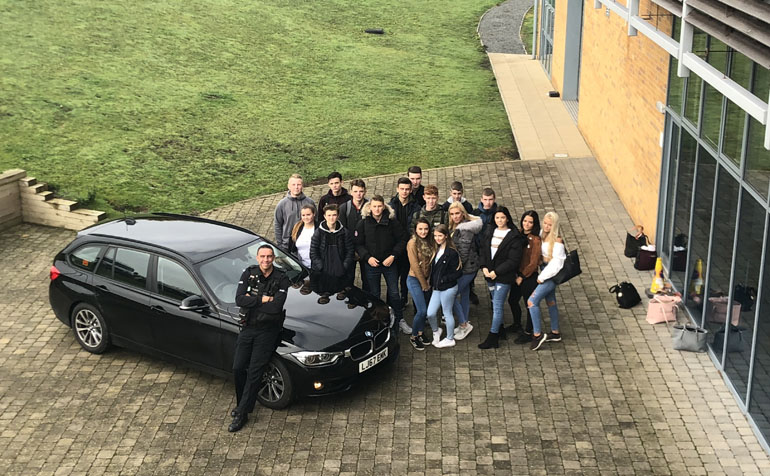 "It's so easy to happen. We're just a normal family. You think you're invincible at that age but you're not.
"If we can get into the minds of young drivers before they actually learn to drive and give them some insights into what the dangers and consequences of their actions are then it's been worth it.
"I hope they go away with a positive attitude towards driving."
Billy and Steph Sanderson, who lost their son Michael in a car crash in Browney Lane, County Durham, also spoke to the students at the event which takes place over two weeks.
Mr Sanderson said: "You never get over it, it affects you every day of your life. If us being here means another family don't have to do through what we've been through then it's a good job."
Students from 25 secondary schools are taking part in the event organised by emergency services in County Durham and Darlington and Durham County Council with more than 1,100 pupils involved in activities including virtual reality goggles, a driving simulator and seatbelt sled.
Casualty reduction officer Nicola Bowman, who organised the roadshow, said: "In the Durham Force area alone, 144 people aged between 15-24 years have been killed or seriously in the past three years.
"Hundreds more have been involved in collisions which resulted in less serious injuries. Road collisions are the biggest single cause of death for young people aged 16-24.
"With that in mind, we aim to positively influence these young people's attitudes and behaviour. The day has a particular emphasis on the 'Fatal Four' which are most common causes of fatal and serious accidents – drink and drug driving, failing to wear seatbelts, excess speed and distractions such as the use of mobile phones. They have all said that they have learnt a lot."
Ellie Harrington, 15, a student of the Education Village in Darlington who attended the day, said: "The smallest thing could change the path of your life so concentrate on what you're doing and don't get distracted. Also wear a seatbelt."