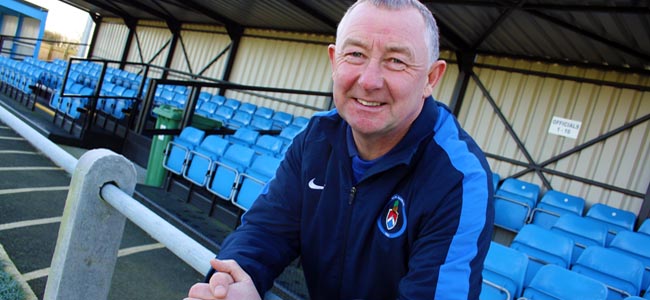 By Martin Walker
Aycliffe manager Allan Oliver is optimistic ahead of the new season, which kicks off this weekend.
The Newtonians will host North-West Counties Division One side Holker Old Boys, from Barrow-in-Furness, in the extra preliminary round of the FA Cup with Budweiser at Moore Lane Park on Saturday (11th August).
The match kicks off at 3pm, with admission £5 adults and £3 concessions.
In a Video Interview with Aycliffe Today, Oliver said: "To be totally honest, last season I was a bit apprehensive, but we got a pleasant surprise.
"I feel a lot more optimistic this season. Don't get me wrong, I know how tough it's going to be, you look at it on paper and you wonder where we're going to pick up points from, but we've got a little bit more experience, a little bit more know-how, to go with the work-rate and aptitude of the kids… I think we'll be alright.
"I'm not saying we're going to go and win things, but I'm confident we'll hold our own, and hopefully get a little bit of a cup run, that's what we're looking for."
Aycliffe completed their pre-season programme with a 1-0 win against a young Harrogate Town at MLP last Friday night.
Oliver added: "Pre-season has been about fitness and game time, and we want the fitness as high as we possibly can.
"The new lads we've fetched in have fitted in well, to be fair. It does take time to gel, but know the players, and we wouldn't have signed them if we didn't think they'd improve us."
Go to our Video Vault to see our interview with Oliver.