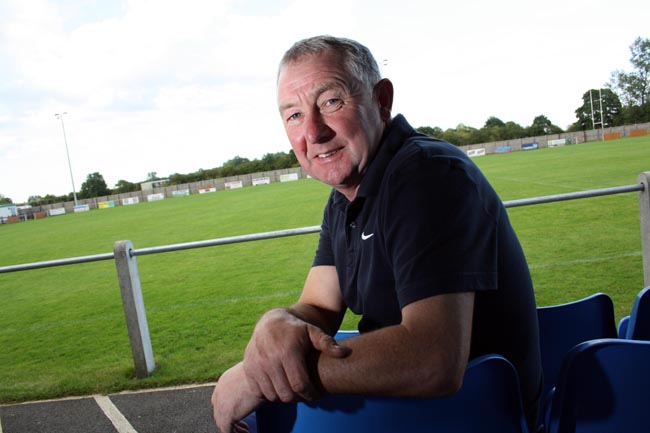 By Ryan Burton
Newton Aycliffe FC Chairman Allan Oliver has praised Gary Farley after announcing his decision to leave the club.
Farley leaves the club after eight years at Moore Lane Park. He spent seven years in a dual role as chairman and assistant manager.
Oliver, who took over as chairman in the summer after previously being manager, has been quick to commend the popular Newtonian.
He said: "He's been a major influence at the club. I have worked with Gary for over 20 years and we haven't fallen out over football once.
"In my first season the club, I asked him to get on board as my assistant and as an Aycliffe lad he had no hesitations."
The club have not looked back since, working their way up from a lowly position in the Durham Alliance League to consolidation in the Northern League First Division.
The team has won many plaudits for their performances and style of football throughout this meteoric rise, which included the Northern League Second Division title.
"From the outset, our aim was to consolidate the club in the first division," says Oliver.
"We wanted to compete and win things. We have done that.
"We are now playing the highest standard we possibly can in the North-East. It has been a tremendous effort."
A lot of time and money has been invested under the stewardship of Farley. One of his notable achievements off the field was the successful redevelopment of the pitch at Aycliffe Sports Club.
The appointment of new manager, Peter Dixon, in October has brought a change in direction.
Dixon decided to appoint his own coaching staff that made Farley surplus to requirements.
Despite giving Farley a smaller role on the backroom staff, Oliver was unable to retain him at the club.
He said: "He decided to take another direction. He's a coach and that's what he wants to do. That's great.
"Gary will always get work. He's a good coach but he's also a good person and a good friend.
"When you're picking a new manager, he tends to want to bring in his staff. That is how it is nowadays in football at all levels."
Looking ahead, Oliver has asked the supporters to embrace the change in vision at the club.
He has highlighted the fans have a role in their quest to climb up the table.
"Success depends on the state of your finances. This starts with how many you get through the gate.
"We got great crowds in when we were winning every week in the second division. They've dropped off since then. We want to get them crowds back."
The team has seen a number of positive results under Dixon, including a 3-0 victory away at runaway league leaders West Auckland.
Oliver has backed the new man at the helm.
"He's at it 24/7. He knows football at this level inside out. He's a very good manager, he took his last team to the FA Vase final twice.
"He's gradually building a team and we're looking to push on promptly from the start of next season.
"It's exciting times ahead for the club."