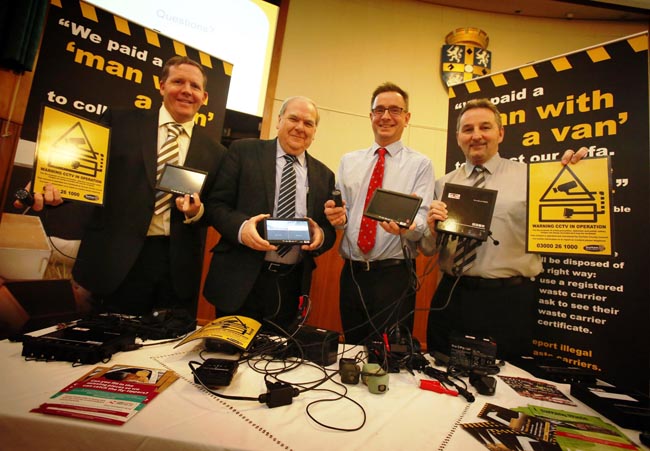 Left to right: Ian Hoult, neighbourhood protection manager, Cllr Brian Stephens, Cabinet member for neighbourhoods and local partnerships, Oliver Sherratt, head of direct services, and Dave Riseley, neighbourhood protection enforcement manager.
Flytippers are more likely than ever to be caught red-handed as extra CCTV cameras are being set up at hotspots throughout County Durham.
Footage from these cameras is proving an increasingly useful tool to successfully prosecute people who spoil the environment by dumping their rubbish in places like country lanes and beauty spots.
Durham County Council is setting up the new CCTV cameras, which are portable, in areas identified as flytipping hotspots to help catch even more culprits in the act and deter others.
The move is part of Operation Stop It, a countywide education, engagement and enforcement campaign aimed at deterring and preventing people from dumping waste, which can include large, bulky items such as sofas, washing machines and fridge-freezers.
The drive is the biggest crackdown on flytipping ever seen in the county and involves the council, Durham Constabulary, Crimestoppers and the Environment Agency.
The additional CCTV cameras, which have been provided thanks to funding from several local members of the council, will be deployed in areas where there are known problems with flytipping.
Cllr Brian Stephens, Cabinet member for neighbourhoods and local partnerships, Durham County Council, said: "Local members have helped pay for these new cameras because they want to play a part in stopping the irresponsible few who dump waste in their communities. It is also encouraging that town and parish councillors have also shown an interest in funding even more cameras for their areas.
"This sends out a clear message that we take flytipping very seriously. Although prosecution is always a last resort, anyone caught on camera will be made to pay for their careless actions, which threaten wildlife and damage the environment."
The use of CCTV cameras has led to a number of successful prosecutions, including a recent case where magistrates ordered a County Durham man to pay nearly £400 after he was filmed dumping rubbish in a country lane before returning a few minutes later with more waste.
Oliver Sherratt, head of direct services, Durham County Council, said: "CCTV at hot-spot areas is proving really beneficial in helping us catch offenders red-handed when they dump waste. The camera footage is very clear and it helps us identify and successfully prosecute those who commit waste crime.
"The vast majority of residents and businesses dispose of their waste correctly and legally. We use these cameras to deter the minority who spoil our environment and we would urge those who do to think again about their actions and be aware that if you are caught on camera and successfully prosecuted you're likely to end up with a fine as well as a criminal record. The message is simple and clear – don't flytip!"
As part of Operation Stop It, residents are being encouraged to dispose of their waste properly and are reminded that using a man with a van may not be a legal way of getting rid of large items like sofas and fridges.
Anyone who collects, transports, or disposes of rubbish must be a licenced waste carrier with the Environment Agency. Unlicensed waste carriers can be fined up to £5,000 for not holding a licence and up to £50,000 if rubbish ends up being flytipped.
Neighbourhood wardens, working with police officers, are also carrying out regular stop and check exercises to find out if waste carriers are licenced and if they are carrying the correct paperwork.
Household waste can be taken to Household Waste Recycling Centres (HWRCs). More information about locations and opening times can be found at www.durham.gov.uk/hwrc.
The council collects large bulky waste. Charges apply. To arrange a collection call 03000 261 000.
Business waste is not permitted at HWRCs. Companies can make sure their waste is disposed of legally by using a licenced waste carrier or by signing up to a commercial waste collection service – find out more at www.durham.gov.uk/commercialwaste
Report flytipping
Flytipping can be reported online by visiting www.durham.gov.uk/flytipping or by calling 03000 261 000. Flytippers and unlicensed waste carriers can also be reported using the anonymous Crimestoppers hotline on 0800 555 111 or online at www.crimestoppers-uk.org
If flytipped items are in a dangerous place or causing an obstruction to a highway please contact police on 999.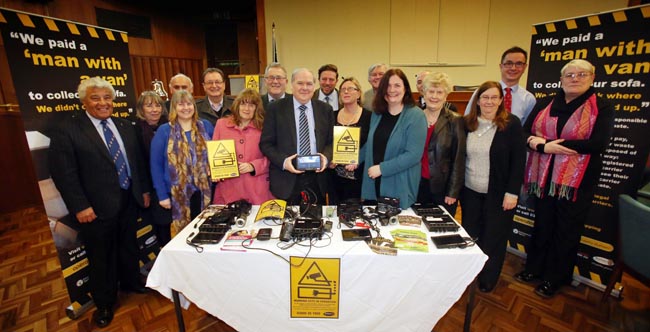 Local members who have been involved in providing the new CCTV cameras with council officers.