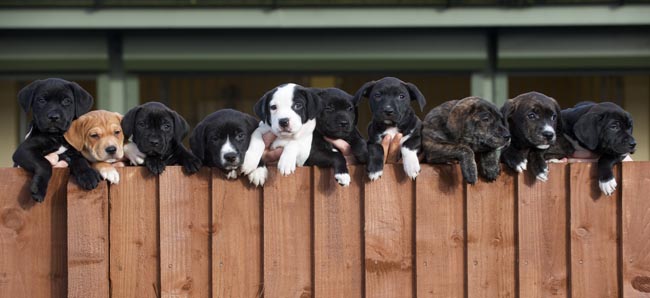 The North-East England tops the table of dog lovers, according to a survey.
The region has 36% of households owning a dog, but only 14% owning a cat, according to the latest Dogs Trust Pet Food Manufacturers' Association (PFMA) figures.
This compares with London, which yet again has by far the lowest level of both dog and cat ownership, with just 8% of households having a dog and 12% having a cat.
Overall the figures show a significant increase in the UK dog population over the past two years, with canines now exceeding their feline friends by almost one million. This is the first time in 21 years that there have been more dogs than cats in the UK.
After level pegging for five years, the figures now show that the number of dogs has increased from 8.6 to 8.9 million (24% of households) with a corresponding decline in the cat population from 8.5 to 7.9million (17% of households).
Michael Bellingham, PFMA Chief Executive, said: "We have all had a conversation with someone about whether they are a dog person or a cat person – this year it seems we are most definitely dog people!
"According to our research, the main reason people get a dog is companionship, followed by pester power – some gentle persuasion from a child or other family member.
"Whatever the reason, dogs can be brilliant companions as well recognised by people in the North East. We've been tracking the UK pet population since 1975 and whilst there have been some peaks and troughs, dogs have never really fallen out of favour."
Clarissa Baldwin, Chief Executive of Dogs Trust, added: "Dogs seem to be flavour of the month at the moment, every celebrity owns a fashionable breed, they grace our TV screens in soap operas and advertising campaigns and if you don't own an item emblazoned with a Dachshund or a French Bulldog you're seriously behind the curve."
Dogs Trust believes that the rise in dogs in the UK is, in large part, due to imported dogs flooding the internet at often far reduced prices to those from reputable breeders.
Sadly, many people still do buy their dog on an impulse – influenced by celebrity and TV – and the internet makes it is possible for them to do so at the click of a button, often at knock down prices.
Since the changes to the PET travel scheme in January 2012 large numbers of puppies have been imported – both legally and illegally – into the UK fuelled by the demand for fashionable breeds.
Regional breakdown
| | | | | |
| --- | --- | --- | --- | --- |
| | Dogs 2011-2013 | Dogs 2012-2014 | Cats 2011-2013 | Cats 2012-2014 |
| North East | 33 | 36 | 14 | 14 |
| North West | 24 | 25 | 14 | 14 |
| Yorkshire & Humberside | 25 | 27 | 15 | 16 |
| East Midlands | 24 | 26 | 20 | 20 |
| West Midlands | 27 | 28 | 23 | 21 |
| East of England | 22 | 21 | 21 | 22 |
| London | 7 | 8 | 10 | 12 |
| South East | 21 | 22 | 21 | 21 |
| South West | 26 | 25 | 25 | 23 |
| Wales | 35 | 35 | 24 | 21 |
| Scotland | 25 | 26 | 17 | 18 |
| Northern Ireland | 27 | 35 | 14 | 13 |
| UK | 23 | 24 | 18 | 18 |
The pet population estimates were made over two years, with total sample of 6,000 •   Nationally representative of households in UK • Conducted by TNS