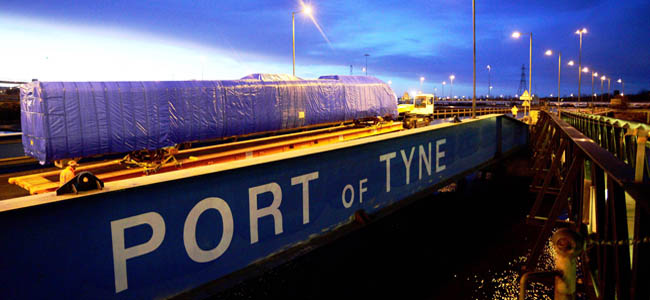 By Martin Walker
Hitachi Rail Europe's very first prototype train bound for Newton Aycliffe has arrived in the UK!
It has taken 52 days and 12,880 nautical miles for Hitachi's training carriage to make its way from Japan to the Port of Tyne.
Dramatic images (below) show the part-assembled carriage, shrouded in mystery, rolling off the 229-metre long vehicle carrier Höegh London.
Click here to see a Video of the train arriving at the Port of Tyne.
The carriage, which will become Hitachi plant's training unit, was built at Hitachi's factory in Kasado, Japan and was transported from Kobe Japan to reach the Port of Tyne's Höegh Northern Terminal before it heads to Aycliffe Business Park.
Hitachi's £82m train-making factory in Aycliffe is expected to be completed this Autumn, with the first carriages expected to roll off the production line in early 2016.
The arrival of the training carriage represents a significant milestone for Hitachi.
Manufacturing Plant Manager Darren Cumner said: "The arrival of the training carriage is a significant step for Hitachi Rail Europe's plans to train our manufacturing staff.
"Apprentices, technicians and engineers will use this train carriage to gain in-depth knowledge of how to build trains. Shipping this carriage via the Port of Tyne is further testament to our commitment to working with local partners and promoting a strong local supply chain."
Andrew Moffat, Chief Executive Officer Port of Tyne, said: "The Port of Tyne has been working with Hitachi Rail, Höegh and NSA UK Ltd to ensure that this shipment goes smoothly.
"As the UK's number one port for vehicle exports the Port regularly receives large car carriers arriving directly from Japan and has long established relationships with automotive and construction plant manufacturers including Nissan, Volkswagen, Renault, Komatsu and Audi."
The 26m-long carriage will be stored at the Höegh Northern Terminal; one of three-car terminals at the Port of Tyne, until it is transported to Hitachi's training facility.
Graeme Wardhaugh, General Manager at NSA UK Ltd, said: "Our experience of working with the Renault Nissan Alliance and other companies such as Hitachi Construction Machinery has allowed NSA and Höegh Autoliners to develop the required skill base which these global companies require to support their logistics requirements."