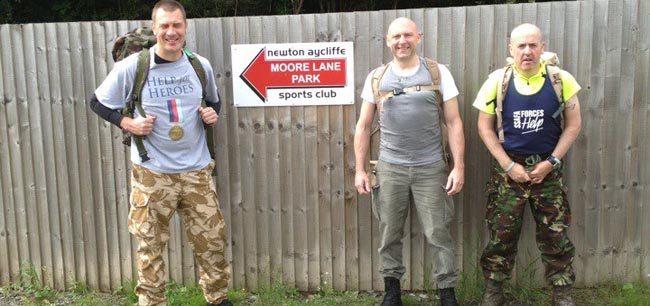 By Martin Walker
Three Newtonians completed a gruelling fundraising race on Sunday.
Neil Cooper, Richard Elgie and Jimmy Tague ran the Paras 10 Challenge, a 10-mile endurance race on the Parachute regiment selection course at Catterick Garrison.
Competitors must complete the race in army boots and combat trousers, carrying a 35lb Bergen (backpack).
The three-man Aycliffe team, raising cash for the Parachute Regiment Charity, completed the course in 2 hours, 15 minutes.
"It was brutal, a lot harder than we expected," said Neil.
"But we know how to train for it next year – find a massive hill and just keep running up it."
Donations of just £1 can be made by SMS – just text 'epsw64 £1' to 70070.
Or click here to donate at their JustGiving page.
More details about the Paras 10 Challenge is here: www.paras10.com/pcoy-challenge.php