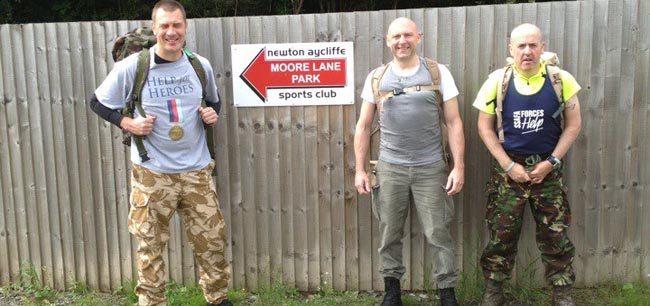 By Martin Walker
Three Newtonians will attempt a gruelling fundraising race today.
Neil Cooper, Richard Elgie and Jimmy Tague are attempting the Paras 10 Challenge, a 10-mile endurance race on the Parachute regiment selection course at Catterick Garrison.
Competitors must complete the race in army boots and combat trousers, carrying a 35lb Bergen (backpack).
The three-man Aycliffe team, who are raising cash for the Parachute Regiment Charity, are aiming to complete the course in 1 hour, 50 minutes.
The trio completed their training last weekend, when they ran from Newton Aycliffe FC's Moore Lane Park to Spennymoor Town FC's Brewery Field.
Donations of just £1 can be made by SMS – just text 'epsw64 £1' to 70070.
Or click here to donate at their JustGiving page.
More details about the Paras 10 Challenge is here: www.paras10.com/pcoy-challenge.php