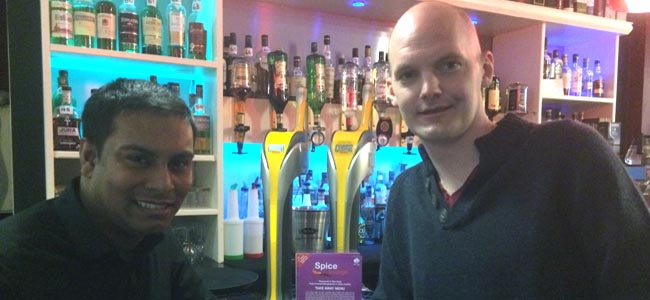 Charity fundraiser Paul McGeary is spicing up his efforts to raise much-needed cash with a tasty event at a local curry house!
Newtonian Paul, diagnosed with leukaemia last November, has already raised £5,000 for Leukaemia & Lymphoma Research after setting up his #NontOneInch Just Giving page before Christmas.
After quickly racing to £4,000 in early January from online donations, a donation from students of Sedgefield Community College – where Paul works as a Maths teacher – and a 60's themed evening, Paul set his sights on raising a total of £10,000 by the end of the year.
Now, thanks to a youth football club, Paul is hoping the funds will be boosted even more with a fundraising event at Bishop Auckland Indian restaurant Spice Lounge.
It's being organised by Paul's friend of 15 years Peter Baker, who is chairman of Escomb Juniors Football Club, which was formed in July 2012 and have six teams currently competing in the Russell Foster Youth League.
Peter said: "We are always looking at ways to generate funds for the football club and when I heard of Paul's illness I promised him I'd go out of my way to help him raise funds for his charity.
"This night will not only benefit both parties financially but will also create a greater awareness of both in the local community."
Tickets for the evening, which will take place on Monday 13th April, are priced £15 each, which includes two-course Indian meal, a quiz, a raffle and a sports auction. Doors open at 7pm with the evening starting at 7.30pm prompt.
They can be purchased from Peter on 07415 092045, or Paul on 07703 732342, or directly from Spice Lounge, which is situated on Bondgate, Bishop Auckland.