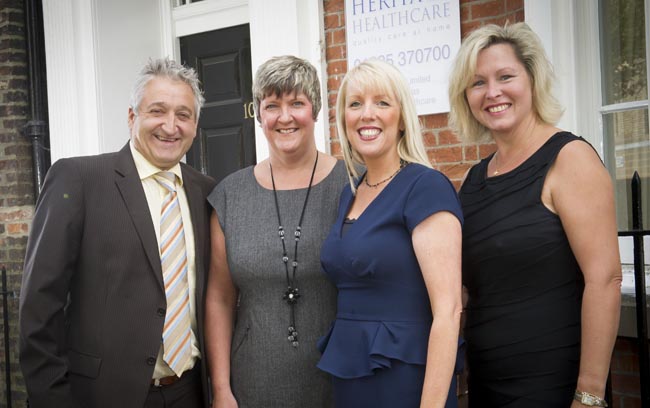 A Newtonian who work for a leading provider of home-based care has been promoted.
Amanda Jackson, pictured middle left in the picture above, already held an executive position at the Darlington-based company having been promoted since joining Heritage in 2008 as departmental managers.
The 44-year-old will combine her new board position with her role as Operations Manager, where she is responsible for areas of the business such as recruitment, health and safety, human resources, planning and executing promotional campaigns, and co-ordinating tenders.
Her colleague, Michelle Fenwick, from Richmond, will combine her new board role with her position as Business Development Manager, where she is responsible for the development of external relationships and marketing.
Glenn Pickersgill, Heritage Healthcare Founder, said: "Amanda and Michelle are a formidable team with a wealth of experience and insight into the care sector, which is of immense benefit to the company, our staff and our clients.
"Their deserved promotion to director level at Heritage means we now have a strong and experienced board that will provide the leadership that the company needs to further build on its success and drive the business forward.
"At Heritage, we value expertise and commitment and our management team has a combined care sector experience totalling more than 60 years with each member of the team beginning their career as a carer.
"As a result, Heritage has a thorough comprehension of the needs of both its customers and its staff allied with an outstanding ability to ensure that staff are allocated to exactly correspond with a client's needs."
Amanda worked as a carer for five years before moving into the administrative side of the care sector rising up to personnel manager level.
She joined Heritage Healthcare's personnel and payroll departments where she achieved NVQ Level 4 in Personnel Management.
● Pictured above: New Directors Amanda Jackson and Michelle Fenwick (l-r centre) with fellow Heritage Healthcare Directors Glenn and Sally Pickersgill.