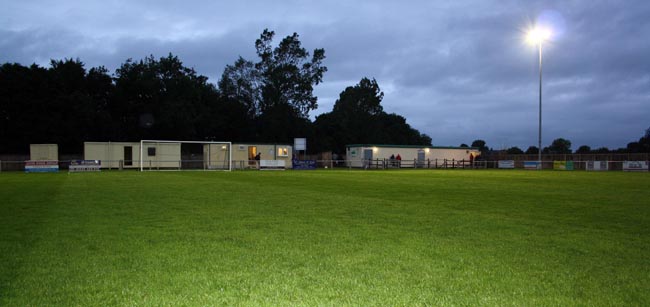 By Glen Robertson
Newton Aycliffe crashed to a disappointing 3-1 defeat at home to Penrith on a miserable night under the floodlights at Moore Lane Park.
The Newtonians never got going and suffered a reverse of the scoreline in Cumbria at the weekend, as Aycliffe were sucked back into the relegation scrap.
The visitors took the lead through Matthew Read's penalty eight minutes before half-time.
Aycliffe levelled three minutes into the second half as Danny Lambert converted Kris Hughes' cross. But just two minutes later Benjamin Jackson recorded a goal of the season contender from 30 yards.
And the Blues secured their three points in the 89th minute as Scott Allison broke through to convert the third.
Allan Oliver recalled Fred Woodhouse to the team in place of Josh Knox and started Mark Peck in the place of the absent John Close, with new signings James Risbrough and Sean Reay on the bench.
Penrith thought they had opened the scoring in the 16th minute after Andrew Murray-Jones poked the ball in from close range following Scott Pocklington's save from Daniel Robinson, but the linesman's flag had gone up.
In the 20th minute, Hughes' corner caused havoc but Woodhouse was unable to force the ball in from close range and Penrith goalkeeper Jonny Jamieson deflected the ball away for a corner.
Five minutes later Pocklington saved well from Read's fierce effort from 25 yards before pulling off a great reflex stop to deny Robert Bowman's drive.
Then Aycliffe were denied by the linesman. Hughes' corner was headed powerfully towards goal by James Oliver but Jamieson saved well but Danny Earl bundled the ball in from on the line, but was deemed to be in an offside position.
Then a minute later Penrith got their break. Lambert fouled Allison in the area and Read hammered his spot-kick down the middle.
Aycliffe responded immediately after half-time. Hughes brilliantly found space on the left and crossed for Lambert to thump home from close range.
But soon after Penrith were back ahead as Jackson's 30-yard drive swerved away from Pocklington and into the top corner. Six minutes later Robinson beat Pocklington from long range but the linesman decided Murray-Jones was interfering with play in the area and put his flag up.
Reay came on for a home debut but Aycliffe never looked like equalising and with a minute left Allison was played in down the left and he stroked the ball into the far right corner to complete the victory.
Aycliffe must now respond on Saturday as they host bottom club South Shields.