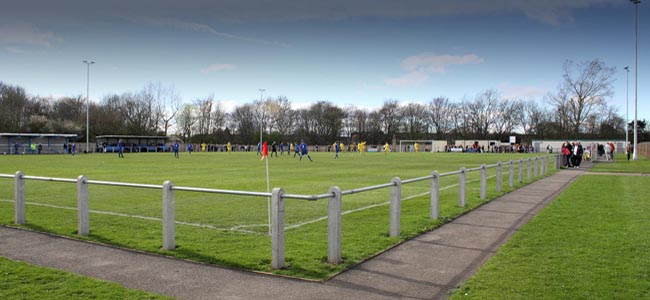 By Martin Walker
Newton Aycliffe suffered a humiliating derby defeat at home to Bishop Auckland on August Bank Holiday Monday.
The Newtonians crashed to a fourth successive defeat against Bishop and now prop up the Ebac Northern League first division, having conceded 13 goals in the first four games of the season.
Allan Oliver had to re-shuffle his side yet again due to injuries and other absences, with no less than eight first team players missing for various reasons.
The Aycliffe boss even criticised some of his squad for taking badly-timed holidays at this time of the season in his post-match interview with Aycliffe Today.
And who can blame him? With so many players unavailable, and having to play striker Gavin Barton as a makeshift centre-back, it was always going to be an uphill battle.
Oliver was without Kris Hughes, James Oliver, Paul Broom, Josh Knox, Stuart Owen, John Close, Mark Peck and Tom Hinchley for the Monday derby.
But even after the visitors went into a 2-0 half-time lead, substitute Sam Vernalls gave Aycliffe a lifeline, with a 62nd-minute header on his home debut for the club, to give hope, albeit briefly.
Until just five minutes later when Scott Pocklington dropped his second clanger of the afternoon to gift Bishop the all-important third – and Aycliffe capitulated.
With their heads firmly down, Bishop went on to win with consummate ease, climbing up to fourth in the first division table.
Their first goal came in the ninth minute. Pocklington dropped Kieran Megran's right-wing cross and Craig Hodgson tapped into an empty net.
Bishop went close to a second seven minutes later when a mix-up between Barton and Anth Campbell put Sonny Andrews in, he touched the ball past Pocklington but Campbell recovered well to clear.
Aycliffe had a half-chance on the half-hour mark when Adrian Webster slipped Sean Tarling in on goal, but Bish 'keeper Peter Jeffries saved.
But the visitors went 2-0 up six minutes later. Pocklington did well to save Andrew Johnson's low drive, but Newtonian Megran was first to the rebound with a left-footed drive.
Aycliffe had a rare attack five minutes into the second half when Campbell burst forward but dragged a 20-yard shot wide.
The Blues pulled one back after 62 minutes. Jeffries did well to tip Paul Robinson's strong free-kick round the post for a corner, and Vernalls glanced Fred Woodhouse's set-piece through a crowded goal-line into the net.
Aycliffe started to look much better, playing some decent football, and it seemed they were getting back into the game.
But then Pocklington pressed self-destruct again in the 67th minute, dropping a routine cross for Johnson to hammer home.
The Bishop forward got his second of the game in the 75th minute when he took a great throughball in an inside-right position before slotting past Pocklington with a neat finish.
Aycliffe's current luck was summed up in the 77th minute. Tarling lobbed Jeffries from just inside the area but the ball came back off the crossbar, and Bishop went up the other end to make it 5-1, with substitute Danny Parker thumping a close-range header past Pocklington from a right-sided corner.
The remaining spectators quickly headed for the exit gates, and with a trip to Spennymoor next up for Aycliffe this Saturday, they're going to need more than just a slice of luck to get themselves out of this rut.
Aycliffe: Pocklington, Young, Campbell, Craddock, Barton, Tarling, Wilson, Webster (Vernalls, 55), Robinson, Woodhouse, Wing. Unused: Black, Farley.
Attendance: 340.