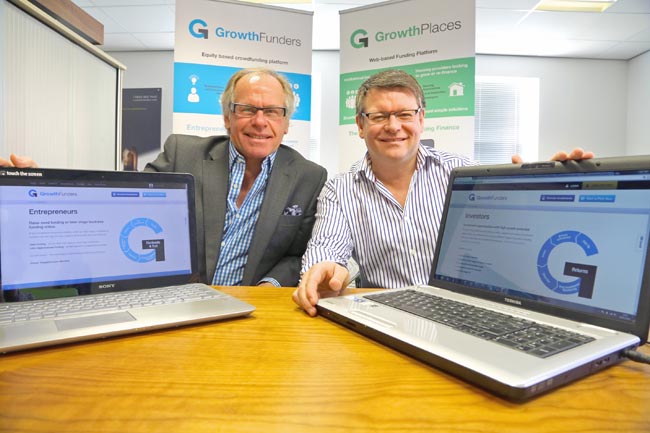 Growthfunders, the North of England's first online equity crowdfunding platform, has been launched to match ambitious entrepreneurs with great business ideas to a range of investors to create and grow exciting businesses.
The site allows businesses and ideas with high growth potential to garner support from a wide range of investors, including angel networks and early stage venture capitalists (VCs).
Growthfunders also opens up access to this exciting asset class to a wider audience of suitably-qualified online angels, or the eponymous "crowd", who can experience investing alongside more experienced investors.
Launched by Newton Aycliffe-based entrepreneurs, Craig and Norman Peterson, GrowthFunders has a wealth of experience behind it.
Both Craig and Norman have supported entrepreneurs who are looking to raise capital, acting as mentors and providing strategic advice to a range of high growth businesses.
The co-founders have recently completed exams with the Chartered Institute of Securities and Investments as part of their continuous professional development.
GrowthFunders is the first platform designed, built, and unveiled by the Petersons' firm GrowthCapitalVentures.
A technology-led financial services business, GrowthCapitalVentures develops and operates online investment and capital introduction platforms.
The company has formed a strategic partnership with a leading London-based Investment Management Firm, Linear Investments, who are authorised and regulated by the FCA.
As an appointed representative of Linear, GrowthCapitalVentures ensures that the GrowthFunders platform operates within strict FCA guidelines and provides investors and entrepreneurs with a secure online marketplace to raise and invest capital.
Co-founder Norman Peterson (pictured above, left, with brother and co-founder Craig) said: "The aim of GrowthFunders is to streamline the fundraising and investing process.
"Entrepreneurs can get their businesses in front of potential investors who in turn are excited to play their part in supporting a new wave of Great British businesses.
"Depending on personal and company circumstances, investors can receive up to 78% tax relief on SEIS-compliant deals. Investing in this way was previously available only to wealthy individuals – think Dragons' Den – but GrowthFunders' unique structure means that suitably-qualified individuals can become online angels and invest from as little as £100.
"It is vital that when private companies raise capital from private investors that they do so in a fully compliant manner. Many entrepreneurs are unaware of the legislation that covers raising equity investment for privately owned businesses. We ensure that entrepreneurs are operating in this fully-compliant manner.
"Traditional methods of raising equity finance can be time-consuming for everyone involved. Entrepreneurs often have to spend time and focus away from their business, travelling and pitching to numerous angel networks and VCs. Similarly, investors often have to spend valuable time at investor events, scouring business plans, and attending numerous face-to-face pitches, looking for businesses they want to invest in.
"GrowthFunders changes all of that. The secure online platform streamlines the investment process, as entrepreneurs upload their pitch once to the website for potential investors to review at their leisure. Investors can then choose to open dialogue with entrepreneurs, should they wish, via the GrowthFunders secure forum or Skype."
The platform lists business from all stages of growth and all sectors. Anything from a start up in the technology sector with high-growth potential, to an established business which has been successfully operational for six years and has the potential to list on the stock market in the near future.
Co-director Craig added: "The interest up to this point has been fantastic. We're working with some very talented entrepreneurs and are excited about the next 50 deals we have in the pipeline that will be listing on the platform over the course of 2014.
"We are also looking forward to welcoming investors to the site. Anyone can come and take a look around the public area of the platform, helping them to understand this exciting marketplace. If they like what they see, we'd encourage them to join GrowthFunders for free, so they can keep up-to-date with new deals, current listings, and success stories.
"We also have a number of resources available to download, including eBooks on tax efficient investing and creating a brilliant equity crowdfunding pitch. Everything can be downloaded for free, so everything you need to know is right there for the taking."
For more information, or to register, visit www.growthfunders.com